Updated
18 Jan 2021
11 min
Are you thinking to implement software for your daily business operations? You can invest in an off-the-shelf solution or develop new products based on your unique requirements. If you're in need of a unique product, you should choose custom software development for small business.
Being flexible and scalable, bespoke software increases business output and reduces costs in the long run. As a result, it brings the high ground to your enterprise.
Let's look at the approach in more detail.
What is Custom Software Development?
Custom software development is the process of designing, deploying, and maintaining software products. Its uniqueness refers to the fact that it is specific to each client's business, their needs, and definite parameters. The approach is about building a project with a particular idea and audience in mind to meet your exact product requirements.
As a rule, bespoke software development is applied for particular and rather narrow industries. The approach offers sophisticated solutions for these domains. It helps get exactly what the enterprises need.
For example, the following domains benefit greatly from custom software:
Online banking
Healthcare
Finance.
Let's take a look at the major custom software development stages:
As you can see, research is the starting point of building a tailored product. The stage may include interviews with stakeholders, onsite workshops and discovery sessions, and more.
Tailored products improve the overall efficiency of companies. The matter is that custom-built solutions are closely connected with business objectives.
Why implement Custom Software Development for small businesses?
You should take into account that for any enterprise, including small business, custom software development is not a magic wand. So, before investing in the approach, think about the following:
Does your business comply with specific standards of your industry or government regulations? Usually, it goes about healthcare, finance, and education, as the needs of these industries are not common for other branches or organizations, e.g. to store processed data of patients, etc.
Do you have security rules?
Do you have lots of complicated data to work with? Do you want to optimize it?
On the other hand, it is not a good idea to apply customized software development in the following cases:
If you want to launch as soon as possible, it is much faster and more convenient to use an out-of-the-box solution.
Stock solutions meet your demands
If you believe that off-the-shelf platforms give you all the needed functions and services.
Building a project from scratch is a rather complex and cost-consuming process. If a software solution with the desired functions already exists, you can save a lot of money. Still, in some cases, the cost of a ready-made solution may turn out to be more expensive than the expenses spent on bespoke software. Especially when it goes about a long-term perspective.
So, if your goal is to build a unique product with high-security standards and you are not limited by time, invest in progressive tailor-made solutions. Otherwise, you can consider off-the-shelf software to launch fast, but be ready for scalability and sustainability problems.
The benefits of Custom Software Development for small business are numerous. In this article, we have listed the main reasons to opt for this approach.
1. Meet specific requirements and problems
Each company is unique and has certain needs and issues to be solved. For example, you are going to build a product with special security regulations. Or you want to give your consumers specific functionality that is not found across your competitors.
If you choose Custom Software Development for small business, it will help meet your concerns and key needs, as it is not just a set of general features. Tailored products are about taking into consideration your small business fine points and hidden risks.
That is why many organizations prefer to collaborate with custom software development companies.
Source: RTSlabs
It is extremely important to determine the requirements you want to meet. If there is no ready-made approach to fit your needs, then Custom Software Development for small business is surely your best solution.
2. Reduce costs with custom software development
Most people believe that developing a product from scratch is more expensive than using an off-the-shelf platform. However, when it goes about a long-run period, Custom Software Development for small business can be the best choice. The matter is that bespoke software development means rational time and money-saving. So, you can build some functionality with a certain list of functions you need. You won't get unnecessary features on your product that take extra costs.
When creating a project, you should think if your business requires all the features that ready-made solutions offer. It happens, that there is no need to buy them with the functions you will never use. So, you can realize that the chosen out-of-the-box solution does not offer the options actually needed.
One more point you should take into consideration is that quite often ready-made solutions have licensing fees. Depending on a provider, they may be monthly or yearly taxes. It means that the initial costs may be relatively low but over time the expenses will grow.
Being a small business owner, it can be a good idea to invest in a product designed for your unique requirements and goals, thus saving money in the long run. With custom software development for small businesses, you can easily add new functionality, as your business scales.
3. Add extra features when needed
Ready-to-use platforms cannot always provide you with all the required functionality and can be a real problem in the future. Off-the-shelf solutions may become the best choice for small companies or startups that are just going to the market.
Let's look at it in detail. Your business grows, so do your needs. Custom software development process allows you to have more options compared to out-of-the-box platforms. This user-oriented approach is more flexible and efficient. Especially, you can notice these benefits when it goes about long-term perspectives.
So, you do not have to be limited by the functions offered by ready-made platforms.
4. Automate manual operations
When you decide to expand your business, you should realize that the number and complexity of operations performed will increase. Endless manual actions may become ineffective for your company's workflow. As a result, you can face an automation problem.
In this case, automating manual operations becomes a sound idea. It saves both time and costs and improves labor efficiency in the long run. For example, you have a catering small business with a great number of items and suppliers in the base. Your employees spend hours to analyze product balances and demands. They try to give without-surplus orders to providers.
Here comes Custom Software Development for small business tuned to your particular needs. This way, you can both manage your key processes and make the connection between the departments easier. The improvement includes procurement, accounting, and finance managers.
5. Make your data secure
The number of cyberattacks is increasing day by day. Hackers want to benefit from vulnerable enterprise systems. They aim at thieving intellectual property, personal data, credit card passwords, etc.
There is no need to say that both small business owners and customers sustain losses, from reputational damage to cost loss.
According to Statista, the most targeted industries are finance, manufacturing, and healthcare.
When it goes about sensitive data, i.e. personal or financial information, tailor-made solutions win the prize. It is much more difficult to hack custom software, as most tailored solutions are not publicly accessible.
In addition, bespoke solutions include specialized security code and encryption. These technologies make your product safe and sound.
Ready-made platforms are more susceptible to external threats and require less effort to be hacked. Why is it so? Off-the-shelf solutions are developed for wide use. It means that the source program code is easier to hack compared to custom software.
So, why is custom software development important for small businesses? What benefits does it provide? You can be sure that custom software agencies:
will analyze risks;
apply best practices and standards;
deliver you a highly-secured tailor-made product.
Looking for a reliable custom software development company?
We build fast, scalable, and secure solutions that help grow our customers' businesses.
Contact us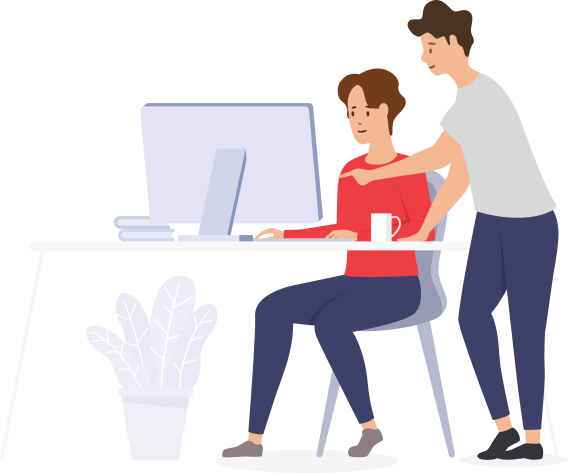 6. Get technical support and improvements
With your company changing, the software also needs to evolve. Thanks to Custom Software Development, you can always get access to a highly-skilled web agency to add the desired features.
One of the benefits of Custom Software Development for small business is cost reduction. Having a development team to upgrade your custom product is more reasonable than customizing ready-made solutions.
When you opt for an off-the-shelf solution, you depend on the firm that developed this platform and the prices they set. You cannot rely on getting quick renewals, which may cost you extra.
Working with a custom enterprise software development company helps you boost enterprise performance. It also makes the operating process as smooth as possible.
Besides, when facing different problems with your online platform, you can be sure that all of them will be solved efficiently in the nearest time.
In general, custom software development companies are responsible for your project managing and changing. They make it a product of great vitality and high performance. Isn't this what you want?
Custom development vs packaged software
Below is the table which compares bespoke software development and out-of-the-box approach.
Custom Software Development vs. Packaged Software
Criteria
Custom software
Ready-made solution
Available functionality
Depends on the project
Limited by the platform
Flexibility
Performed by adding more features as your business scales
Low as you get a fixed list of features that are hard to customize and scale
Launch speed
Depends on the task
Fast, in most cases, even instant, as the approach suggests already existing options
Costs
Lower in the long term. However, purchasing additional hardware that increases the value of your business may be expensive.
Lower in the short term as you can launch in a moment. However, future improvements are costly.
Security
High level as custom software uses the most secure protocols and encryptions. They make your solution harder to defeat.
Not solved to the full, without any extra security standards, making the software more vulnerable to hackers' attacks.
Maintenance
Provided by the development company or any other software development firm.
May be challenging, as you need to engage a third-party company to implement new functionality.
Final Thoughts
Bespoke solutions are designed for the particular needs and requirements of a company. The approach helps you get exactly what you want from your software project.
So, in case you want to get a unique product, choosing custom software development for small business will be a great option. Tailor-made solutions scale and adapt to your project's progress. Thus, it becomes a long-run investment for your enterprise.
If you are looking for a custom software development company that will help you deliver a reliable and fast-loading solution, we are glad to help you. Contact us to discuss your project and to get a free quote.