Updated
04 May 2022
20 min
Online reviews are the type of social proof most of us rely on. So, it comes as no surprise that businesses compete to be "found."
Luckily enough, websites like Yelp exist. Users daily rate and review restaurants, barbershops, hotel rooms, and more. That's partially a reason why Yelp has become the most visited go-to review site in the US.
How to build a business directory website? What features make sense to invest an effort in? Read on as we have crunched the best solutions and prepared tips on how to create a review website like Yelp.
What is a business directory website?
The truth is, business directories have been existing for quite a while. "Yellow pages" were used as a common way pre-Internet services were found.
Eventually, they were replaced by what we call business directory websites. In addition to contacts and descriptions, such websites have crowd-sourced reviews.
How many of us read feedback before attending a restaurant or booking a room? Probably a lot. Surveys show that for 79% of customers, an online review is similar to word of mouth.
Also, many people jump online to discover something about business on a near-daily basis:
Source: BrightLocal Research on December 9, 2020
Key players
Speaking about companies like Yelp, we cannot but mention other leading platforms your business can be listed on. So, here are few honorable mentions:
Google My Business
Google My Business listings are emerging in your browsers almost every day. This directory continues to climb in relevance due to a few reasons, the foremost of which is a widely-used search engine.

Foursquare
Foursquare may have been known for its check-in function. Nowadays, it focuses on user-written tips. Users claiming their businesses also take advantage of analytics.

Bing Places for Business
Unlike Google, where links play a crucial part, Bing's algorithm is more keen on social signals — likes, shares, and comments. Bing Places for Business shows reviews from third-party websites like Yelp, Facebook, and TripAdvisor. Also, its image attachment limit for your listing is 10MB, while Google's file size limit is up to 5MB.

Facebook
No need to mention what Facebook is. With over 2.7 billion monthly active users, there are myriad services you can connect to your Facebook Page.

TripAdvisor
The world's largest tour suggestions website. Travelers use it to browse 884 million reviews of more than 7 million locations — restaurants, hotels, and tourist destinations.
Yelp history and overview
In 2004, Jeremy Stoppelman caught the flu. When he jumped online to find a doctor, he realized there wasn't that much information. This story eventually led to the creation of Yelp, a go-to review site for almost every type of business.
With his former PayPal colleague Russ Simmons, he launched the site in the same year. Since 2004, users have posted on Yelp over 220 million reviews.
In the fourth quarter of 2020, Yelp had net revenue of $233 million. Net Income grew 23% from the fourth quarter of 2019 to $21 million, and the company predicts it will see sustainable revenue growth this year.
Satisfying business owners is not that easy. Pleasing their clients might be even harder. Since business directory websites do both, we'll look closely at how Yelp deals with each side.
Yelp for Customers
Check out the following noteworthy features Yelp offers to a customer:
Check-ins;
Reservations and ordering food;
Reviews and ratings;
Location-based recommendations.
For those of you familiar with Facebook Places and Foursquare, Yelp check-ins shouldn't be a major surprise. Keep your friends updated with your latest comings and goings. Meanwhile, some restaurants might give you a 20% discount or free appetizer in gratitude for your posts.
Yelp shows recommendations triggered by real-time geodata of your device:
You can make reservations by tapping the "Find a table" button. To profit from this functionality, a business has to be signed up for Yelp Reservations.
Update information about the visited place via its page on Yelp by simply tapping the "Edit" icon. And if you'd like to share your experience, click on "Write a Review." You'll be redirected to a new page.
Once the page is open, select the number of stars, write your comment, and hit "Post Review." Additionally, you can attach photos you've taken.
This is how it looks in practice:
The appearance of review snippets in search results is completely automated. What review pops up first is determined by keyword relevance and, according to Yelp, whether it is currently recommended.
In 2019, Yelp introduced custom searching based on each user's diet and lifestyle. This became possible due to grown machine learning and AI capabilities.
Yelp for Business
It is possible that your business has already been reviewed by Yelp members. By claiming your business, you will gain some insights and the ability to reply to reviews both privately and publicly.
Yelp let you add your own images and tell about your business in the following sections:
Specialties (сharacter limit: 1500);
History (сharacter limit: 1000);
Meet the Owner/Manager (сharacter limit: 1000).
The less known your business is, the more precise its description should be. That's a reason behind character limits. Create a unique and meaningful description for a memorable, top-of-mind business image.
A user dashboard is at your disposal for providing data on your visitors. Keep an eye on metrics to figure out how to grow user engagement. A cafe owner, for instance, may discover that people are viewing their page on weekdays before launch break. This would help to run more impactful marketing campaigns.
Yelp for Business can offer you self-service and a contract plan.
If you prefer the contract plan, a Yelp representative will help you run an advertising campaign. All the included services require a monthly payment.
Self-service allows you to select Yelp's premium tools. These include:
Yelp Ads
Place your business high on the search results. It can also appear on competitors' pages on both desktop and mobile. With custom ads, you can attach a photo, select the review you'd like to show, and manage your keywords:
Source: Yelp
Yelp Deals
Customers can buy prepaid offers from your business profile. These include Yelp Vouchers, Gift Certificates, Check-In Offers.

Yelp Reservations
Make your staffing and cooking processes much easier. Let your customers manage reservations and walk-ins, assign and rearrange tables. They can communicate with you directly via message.

Profile upgrades
Use the "Call to Action" button to redirect customers to an order form on your company's website. Attach up to six highlights that attract people based on their lifestyle (e.g., "Pet-Friendly," "Family-Owned," etc.). Restrict competitors' ads on your business page, turn on photo slideshow, and more.
Find a minute to learn about an MVP of a accommodation search website we have built for our customer.
How to build a website like Yelp?
Start with finding a niche
Before you dig into MVP and revenue streams, make sure your idea would appeal to lots of people. At the same time, how do you create a website like Yelp without blindly copying it?
To begin with, when designing a platform, answer whom you are targeting. Companies like Yelp favor catch-alls. Meanwhile, other platforms prove to be successful with a niche strategy.
HomeAdvisor, for instance, helps you find and review professionals for carrying out home improvement:
Another example is Indeed. This website allows employees to rate the companies they work for, share salary information, tips on how to prepare for a job interview, and more:
If you have already spent time doing research and noticed an unoccupied niche for some business or location, this is your chance. By coming up with a unique selling proposition, you stand out from the crowd.
Define your business model
Advertisement
Let's stay with that for a second — sponsored Yelp ads bring over 90% of a company's revenue (Q4 2020).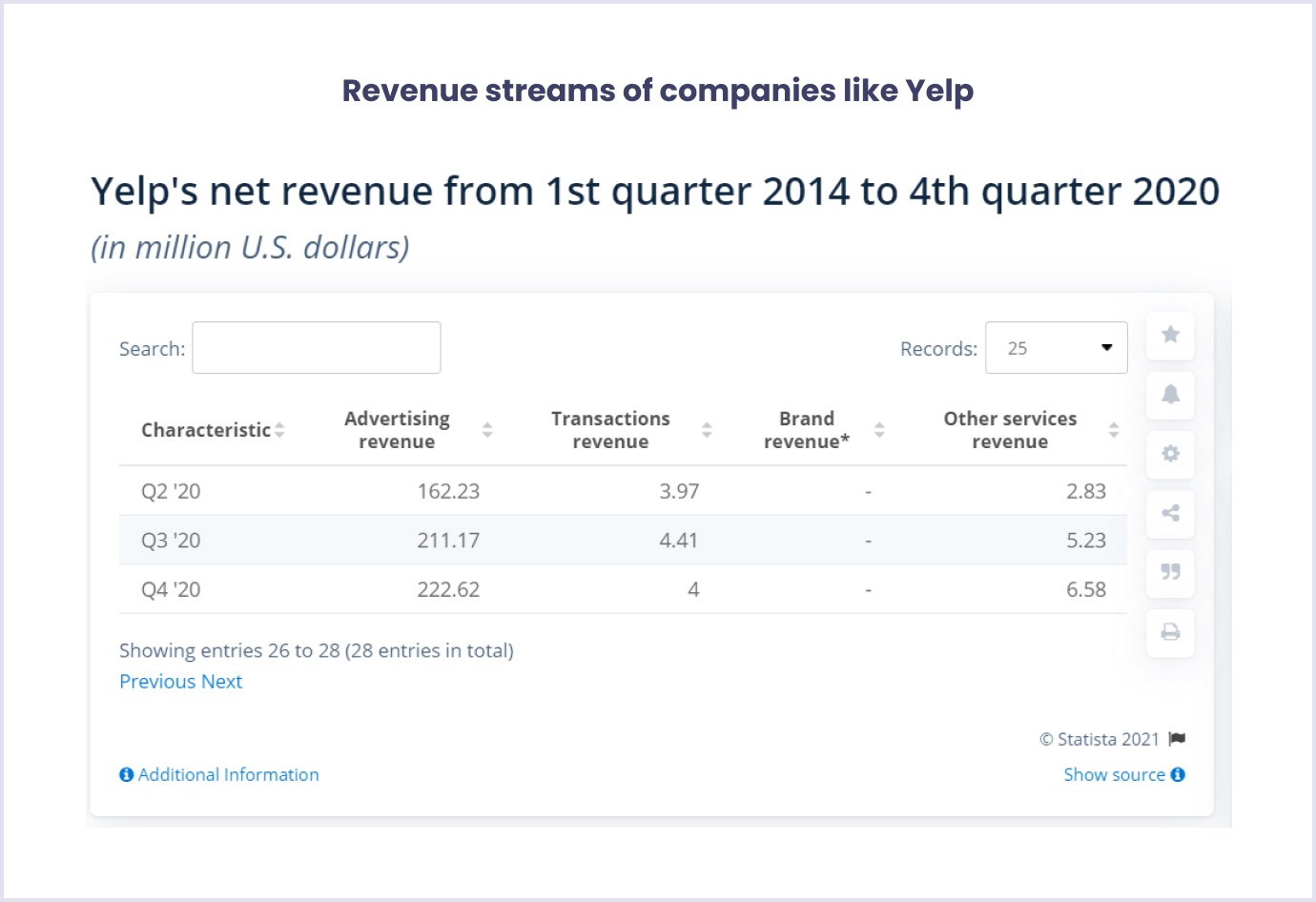 See what you can offer service providers:
Higher listings' visibility in searches;
Being on top of the search results;
Occupy space on competitors' pages;
Prevent their pages from competitors' placements.
Profile upgrades
Allow businesses to extend starting design of their pages, meaning:
Customizable storefronts, more imagery, videos, and call-to-action buttons.
Showing a favorite review(s) with a quote.
Posting a special offer, hiding competitor ads from their page, etc.
Analytics services
Paid analytics tools enable businesses to keep an eye on their performances in real-time. It may include visitor traffic, click-through rate (CTR), and revenue estimation.
Commissions
Businesses can offer deals and other certificates to grow their client base. Yelp takes a commission on sales at 30% for deals and 10% for gift certificates.
Subscription
Businesses would like to pay for letting their customers order delivery, book tables, hotel rooms, and appointments within your site. Access to these features can be granted with a monthly subscription fee.
Social media marketing
Some businesses need help running social media campaigns (e.g., within Facebook, Twitter, or Instagram). For an extra payment, a business directory representative will take care of:
Lasting brand awareness;
Cover and profile photo optimization;
Leads generation;
Maxing out hashtags performance and more.
Take a look at the Insurance Progressive Web App we have delivered.
Must-have MVP functionality
There are several reasons you should build such a thing as a minimum valuable product (MVP):
You launch the platform faster. Once feedback is collected, you can extend starting features and add new ones.
Having a working MVP helps attract investors and shows that you, putting an effort, mean business.
It is your chance to find the most efficient way to promote your directory site.
Fortunately, entrepreneurs come up to us for such advice frequently. In today's article, let's look closely at functions you should consider employing MVP development services for a website like Yelp.
Registration and verification
Split the registration into two: for customers and business owners. Provide it for free to both types of accounts.
Let customers register using Google or Facebook sign-ins. Verify business accounts by email, phone number, website, and ZIP code to detect fake identities.
Full approval of a business account may go within 24-48 hours or, in some cases, longer. Until then, limit the functionality of lately registered business accounts.
Search and filters
Let site visitors search through either by keywords or features like:
Speciality of a business
Price range
Location
Ratings
Highlights
Make autocomplete suggestions so people see results without manually typing every character.
Business description
Let companies briefly tell about their history and value proposition. Keep it short, like a tweet. With character limitations, you prevent people from using cliches.
Reviews and ratings
Make each side receptive to dialogue.
Let customers post reviews. Allow business owners to reply once their business accounts are approved. It is worth mentioning that 96% of customers read businesses' responses. Posting a review may go just like in Yelp, meaning in three steps maximum:
First, tap "Leave a Review". Then, select the number of stars. Type in a text and hit "Submit". That's it.
The 1-5 rating scale is most widely used to measure customer satisfaction.
As a side note, there's always a guy having difficulties. You better create a FAQ section in case there's trouble.
Moderating
The most drastic solution to someone's toxic behavior is to completely disable the reviewing system. But that would be like getting rid of a headache using an axe.
Let users flag inappropriate content instead. Write down the cases when moderators should remove reviews and comments, for example:
A reviewer is clearly affiliated with the business or advertising other business.
A review is groundless due to pandemic-related measures that are out of a business's control.
A review is spam, abusive, harmful, or intended to shock.
You can easily extend those reasons. But avoid such rules being confusing. Think which texts and uploaded imagery may really violate community standards.
Additional functionality in later iterations
We are approaching the second piece of features a business directory website must have. This section focuses on what you should build above the core functionality mentioned earlier.
Maps
Allow users to look through the map to find relevant places in terms of distance range or location.
This feature also provides a quick service preview with name, average price, and few pictures. Businesses with the best reviews and ratings should be recommended first.
Personalization
Let users prioritize their preferences. You can ask, for instance, whether a customer is a pet owner, car driver, parent, vegan. The list goes on.
Once tags are chosen, matches will start to pop up:
Pet friendly
Takeaways
Remote services
Family-owned
Veggie food
Delivery
Free parking
Next-day shipping
You get the idea. Think what details are crucial. Or at least may have an impact. Here are several badges used on Yelp:
Communication channels
Making both customers and businesses receptive to dialogue is a big deal. In addition to review sections, a business directory website can have messenger and group chats.
Reservation
Staying within one platform makes the user experience much more convenient. Allow customers to book a table, test drive, hotel rooms, and appointments right from your site. Thus, a user saves time instead of losing it jumping between web pages.
AI and machine learning
You will be able to tease out lots of great stuff if your client base grows. With AI and machine learning, you can extract information from user-generated content. In time, all popular tags, labels, highlights will be applied automatically.
Check the activity booking marketplace we have delivered for our customer.
What features to include for a website like Yelp: summary
What features to include for a website like Yelp: summary
Customers
Businesses
Additional features
Search & filters

Search & filters

Offer special deals

Add & edit business info

Manage the description & keywords

Run an ad campaign

Write reviews

Reply to reviews

Reservations & walk-ins

Access to analytics

Upload imagery

Upload imagery & videos

Prioritize preferences based on dietary & lifestyle

Profile upgrades

Use built-in messenger & group chatting to contact a business

Use built-in messenger & group chatting to contact a customer
How much does it cost to build a website like Yelp?
Here are major factors that affect cost to start build a website like Yelp:
The approach: out-of-box vs custom development.
Functionality you expect to see.
There are many SaaS solutions to launch the project in a matter of days regardless of what you need: create a marketplace, build a SaaS product or a business directory. This approach is cost-effective and offers third-party services integration.
Creating a Yelp-like site from scratch might be pricey, that's for sure. At the same time, a custom solution brings many benefits, including:
Higher data protection;
Site features intended to meet your specific needs;
Hidden costs avoidance;
No license fees, regardless of user traffic volume.
Let's find out the costs to start building a website like Yelp. To make things easier, we took the average rate of development companies in Eastern Europe which is $50/hour.
How much does it cost to create a Yelp-like site
Features
Time, hours
Cost, $50/hour
Design
UX Development
56 hours
$2,800
UI Development
64 hours
$3,200
Architecture
Project setup
16 hours
$800
DB structure
32 hours
$1,600
Integrations
Payment (Stripe or PayPal)
32 hours
$1,600
Main functionality
Authorization and Security
72 hours
$3,600
User Accounts
42 hours
$2,100
Home page
84 hours
$4,200
Search and filters
96 hours
$4,800
Business page
42 hours
$2,100
Reviews & Ratings
96 hours
$4,800
Maps
64 hours
$3,200
Messenger
96 hours
$4,800
Group Chat
32 hours
$1,600
Analytics Dashboard
42 hours
$2,100
Ad posting form
64 hours
$3,200
Highlights
42 hours
$2,100
Notifications
32 hours
$1,600
User Panel
120 hours
$6,000
Admin panel
124 hours
$6,200
Non development activity
Project management
64 hours
$3,200
Quality assurance
80 hours
$4,000
Code review
48 hours
$2,400
Total
1440 hours
$72,000
So now you get a glimpse of how much it costs to create a website like Yelp. The minimum you will need is $72,000. This is the approximate sum of money if you create a Yelp clone with a development team based in Eastern Europe.
How can Codica help with Yelp-like website development?
If you'd like to create a Yelp clone from scratch, the need to have a full-cycle team for custom software development company is inescapable. These include:
UX/UI designers;
Project managers;
Software developers;
DevOps;
QA engineers.
At Codica, we favor a full-cycle approach. We start projects with discovery meetings to analyze the clients' goals. Also, during this stage, our team prepares a project estimate, the tech stack, and suggested list of functionality. After that, we develop the MVP for you to collect feedback that can be used for upcoming platform iterations.
In case you don't have an in-house tech team, rely on our high-skilled specialists. With their help, you will cover all the stages of Yelp-like website development. And once your platform is rolled out, Codica will be monitoring the software. If any issues, we will fix them in no time.
It is worth mentioning that nearly 49 million users per month access Yelp via the mobile-optimized website. Building a separate mobile application can be costly, therefore to compete effectively, we suggest our clients to consider creating a PWA instead.
There are several advantages of progressive web development:
Fast-loading pages;
Push notifications;
Cross-browser compatibility;
Pre-caching that lets progressive web apps work offline.
Looking for a reliable development partner to create your project? Check custom products that Codica Team successfully delivered to clients around the world.
Summing up
It's time to wrap up our thoughts. Most directory site content is user-generated, meaning:
Customers leave their reviews as well as upload imagery of businesses they've interacted with.
When businesses claim their listing, they can edit the information and reply to reviews.
This leverages social proof to increase business leads. And websites like Yelp do an excellent job in actually delivering that.
Running a business directory website can be an excellent means of income. Of course, as long as you can put yourself in the shoes of others — both customers and service providers.
Yelp is the most famous, though not the only reputable go-to review site. In fact, a bunch of noteworthy directories are out there. Codica team has a successful record in delivering first-rate products to our clients. So if you consider launching your own product, don't hesitate to contact us.