Updated
05 Aug 2020
12 min read
Currently, SaaS is the largest segment of the global public cloud services market. The growing SaaS industry provides an equal-opportunity atmosphere for businesses. It concerns enterprises from startups to tech giants – and any size in between. It explains why traditional software companies, like Microsoft and Adobe, decided to look into that direction too.
Indeed, the time is ripe for developing a SaaS application now. But however tempting it may be, do not dive in headfirst with launching a SaaS product, because sometimes, it can be very challenging. That is why we have prepared a guide on finding a SaaS application development company that will be your best bet.
What is SaaS application development?
SaaS, or Software-as-a-service, is a software delivery and licensing model. It provides the distribution of the software application on a subscription basis. In this model, the provider grants user access to their SaaS application on a pay-as-you-go basis.
According to PR Newswire, the SaaS market is expected to grow to $220.21 billion at a CAGR of 13.1% through 2022. That is why it comes as no surprise that SaaS technology is widely adopted by different types of software applications nowadays. The most popular cases are as follows:
CRM (Salesforce);
ERP (NetSuite by Oracle);
HR (Calamari);
Accounting and invoicing (Workday);
E-commerce (BigCommerce);
Email marketing (MailChimp);
Project and data management (YouTrack by JetBrains).
A huge benefit of the SaaS model is its cross-platform accessibility and auto-update functionality. You can reach the newest version of the app from any device with an Internet connection. It sounds easy enough, but is SaaS development that easy too?
We have to admit that SaaS application development is not a simple task but a time- and resource-intensive project. Such a model requires permanent availability and zero-downtime deployment to allow app usage at any time.
Another challenge is to build and maintain a truly customizable system, and it is one of the main reasons why users love SaaS applications. Also, any software-as-a-service product requires custom third-party payment integration and subscription lifecycle management. It provides easy and convenient payment options for customers.
SaaS application development stages
To ensure compliance with all the requirements, we advise software as a service development to be divided into five main stages, as explained below.
Research & discovery.

This stage implies gathering and assessing the client's expectations and product requirements. Also, it involves collecting and analyzing information about the market and target audience. Based on this, business goals and requirements are formulated.

Product design.

In the second stage, your SaaS product development company interprets the product's design and creates a prototype.

Product development.

The next phase is responsible for the creation of the final product or MVP (minimum viable product). The MVP is a version of a product with minimum features to satisfy early adopters and provide feedback for future development.

Optimization and QA.

This phase includes thorough testing of the software and fixing of any defects or bugs found. Testing is a subset of all the stages in the modern development lifecycle models. The QA process finishes when the product is totally free of bugs and meets all the requirements.

Deploy, monitoring, and support.

The concluding stage starts with the deployment of the application. Your SaaS development company monitors and solves all the issues that may appear.
What to look for in a SaaS application development company?
Expertise in SaaS development
Software-as-a-service products are usually associated with connected cross-business and fast innovation leveraging solutions. This makes standards for SaaS product development companies increase markedly.
Beyond that, the market is extensive and diverse, offering a wide range of SaaS development services. Thus, when you are seeking for the solution in a specific domain, search in respective areas of competence to ensure your objectives will be met.
Above all, your aim is to hire the SaaS application development company with the right team that has expertise in the right type of project. It is very important because experienced companies will consider your preferences and requirements. That is what it takes to suggest the business model, UX/UI design, and programming tools that will give the impulse to your idea and make it lucrative.
Portfolio
One of the best ways to find out whether companies can translate your vision to action is to see the examples of their work. Competent SaaS application development companies can prove their proficiency with case studies overview. You need to explore the vendors' websites or their accounts on Dribble or Behance.
Are you wondering about what to look for in the software development portfolio? Put your mind to the faced challenges, added functionality, project complexity, usability, and UX/UI design.
You can find useful evidence in the detailed Codica case studies that we are happy to share with our customers. It allows us to visualize our expertise and experience in delivering SaaS applications smoothly.
Client reviews
Another useful option for verifying a company's credibility and reliability is to see reviews from its clients. And nowadays, the modern market provides many resources where this information can easily be found.
Look through the platforms for ratings and reviews on worldwide IT service providers, such as Clutch and GoodFirms. These platforms collect actual and honest feedback, not only the five-star positive testimonials. That is why you should check Clutch and similar services to find your best bet.
Speaking about Clutch, it uses a variety of factors to evaluate companies that provide SaaS development services. It considers client reviews, market presence, experience, industry recognition, and other metrics. Below you can see the review given by one of our customers.
Digital presence
Another way of getting a sense of the SaaS application development company's reliability is to check its website, blog, and social media. Visit the agency site and analyze its content, design, and usability.
Did the company website get your attention? Are the design and functionality of it modern and up-to-date? If the answer is no, the odds of getting a high-quality web product with a great look and feel are very slight.
You can also pay attention to the companies' blogs, where they share their expertise and technical and business insights. Consider it as an additional source when assessing specific SaaS developers.
Development approach
Methodology
In software development, the methodology always plays a significant role. How does the SaaS application development company manage its time and resources? How does the team handle scaling and adjusting to growth? Make sure you have asked yourself the questions above. After that, you need to discuss your requirements and expectations with your potential partner.
We recommend sticking to the Agile approach when searching for the team that will develop a SaaS application for your business. The Agile methodology fits into software as a service development perfectly due to its speed and flexibility. That is why implementing this approach will allow making changes at any stage of the development.
Adopting an Agile approach, you can forget about the stress of not having a 100% clear vision of the end product at the early stages of the process. Also, it will give you more control of the project management and execution.
Communication and code review
SaaS application development companies delivering high-quality software must have a streamlined communication system. Questioning mitigates business risks by unlocking value in organizations, states Harvard Business Review. It is also a sign of a healthy and motivating work environment that boosts the development team's effectiveness.
Another big factor is performing code review. Mozilla Developer Guide states that it is a crucial point in the validation of the design and patch management. This practice makes the code more consistent, concise, and robust.
MVP creation
Creating a minimum viable product is a must-have step in SaaS application development. Experienced developers understand the power of an MVP and its principles. Building a SaaS application must start with designing an MVP. It will contain only the features required to solve the users' critical problem. It allows you to reduce the costs of the development, quickly test your idea with real users, and to generate revenue as soon as possible.
Technology stack
Programming technologies and tools used in the SaaS application development have a major impact on the end product. This is called a technology stack, and it is a huge deal in software development.
Are you wondering what is so important about the technology stack? It will be the core of your application's performance, security, scalability, and maintainability. Also, there is no universal answer to that matter because it largely depends on the specific project's demands. Yet there are some things to be taken into consideration.
Note that deep expertise in a specific set of technologies is a better choice than wide specialization. One cannot master everything. Search for a SaaS application development company that is known for its deep domain expertise.
But first, you need to define the requirements for the solution stack. Ask yourself – and Google – the following questions about the programming language that will be the base of your tech stack.
Which one is the most suitable for your main features implementation?
What is the community and talent landscape around it?
How mature is it? Does it have many libraries and tools to work with?
What is the situation with maintenance and security?
What are the dependencies?
How does it affect time-to-market?
At Codica, we rely on Ruby and its powerful Rails framework because of its great syntax, design, and simplicity. It is a robust framework that provides great customization, documentation, and community support.
Below you can find other technical solutions we use for the SaaS application development.
Team structure
SaaS application development is a complex and demanding task. That is why you need to give serious consideration to the choice of the development team. Mind that when creating a platform from scratch, you need to entrust the development to a full-cycle development team.
So, what team will bring your SaaS application to reality?
UX/UI designers;
Project manager;
Back-end and front-end developers;
DevOps;
QA engineers.
The right team of professionals will cover all aspects of SaaS application development, addressing all the stages of it.
Codica expertise in SaaS development
From 2015 onwards, Codica team has helped multiple startups and established businesses to succeed. We love to create the software that rocks by providing high-end development, maintenance, and support.
We are happy to share our passion for cloud solutions when solving any SaaS application development challenge:
SaaS product development from scratch;
Third-party services integration;
Existing SaaS application refinement;
Migration to the cloud.
We are keen to build bright solutions for a variety of software types. You can just go through our list presented below and pick the one for you.
Case study: Digital Village
Digital Village is an Australia-based online collaboration platform that connects entrepreneurs and developers. Its purpose is the creation of a professional network for building great software products. To this end, Digital Village uses progressive technology and a work-life balance approach.
The client aimed to get a platform for entrepreneurs and product development teams to cooperate easily.
Our solution
We have built a fully-fledged web application for deeper cooperation on IT projects. And now, it is an expanding platform offering convenient solutions for both client and development teams.
How did we do it? Our skilled experts conducted profound research. Then, based on this and the client's business requirements, we designed and implemented the required features. The functionality includes but is not limited to:
Intuitive and pleasing UI/UX;
Easy and efficient search options;
Powerful project management;
Functional teams and channels creation;
Convenient and workable Admin section.
Codica helped set Digital Village apart from the rest of competitors with a versatile, secure, and scalable solution. Also, we maintain the application scaling up and enhance it constantly.
Do you want to build a highly scalable SaaS solution?
Talk to Codica SaaS experts and learn how to quickly bring your idea to reality.
Learn more about SaaS development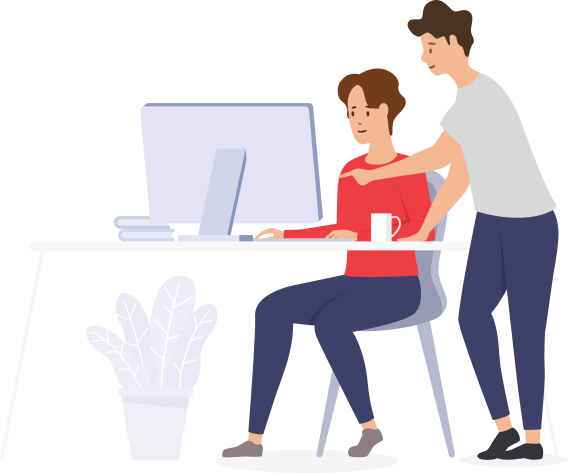 Conclusion
We have covered the key points you need to consider when opting for the right SaaS application development company.
Firstly, get to know the company's experience and expertise by checking its portfolio and client reviews. Then, find out about their SaaS development approach, technology stack they use, and team structure they follow. Put all these puzzles together and break the SaaS ground with an experienced development company.
Here, at Codica, we make SaaS application development robust, scalable, and secure. Feel free to contact us to discuss your idea. Our experts will be glad to share their expertise and make your project rock.