Mar 5, 2021
20 min read
As an entrepreneur, you may eventually come to the point of planning a startup and launching your software product. Initially, you only have the idea of the project. What's next?
According to the statistics, in 2020 the failure rate of startups exceeded 90%. Can you guess what was the reason? It is a lack of demand among the users in the market. That's why when you have a brilliant idea, do not rush building a fully-featured product and spending months on hard work.
There's a more efficient and effective option to initially understand whether your idea will be required in the market. It implies creating a minimum viable product (MVP). This popular approach in startup product development will help you test your business idea and save both time and resources. This way you understand what users need and can create an offering that they are ready to pay for.
You will know all about building a minimum viable product from this article. We will start with the definition of this term and take a look at the best examples of a minimum viable product built by famous companies. Finally, we will provide you with a step-by-step guide on how to create a minimum viable product.
What is a minimum viable product?
The term "minimum viable product" comes from Lean Startup methodology. It emphasizes the influence of learning in the process of building a new software product.
In a nutshell, mvp in software development refers to building an app with enough functionality to attract early adopters. As soon as feedback from pioneer users is received, the software development team knows where to improve or iterate the product.
So why companies should bother with minimum viable product development, you may wonder. Basically, there are several ways how this concept can help companies create high-quality products and establish a successful business.
First, an MVP allows companies to launch their products in the shortest time possible. Fast release, in its turn, means that businesses can get valuable experience much earlier. For example, entrepreneurs can test marketing strategies and sales channels much earlier. As a result, they can find the most efficient ways to promote their product.
Second, this approach allows companies to cut software development costs significantly. Since they build an MVP app, there is no need to implement complex functionality. It means that the development team will need less time to complete the project. Consequently, businesses will have to pay less money for development services.
Finally, building a minimum viable product helps attract investors. Forbes recently published an article on tips for companies seeking financial aid. It was stated that investors should see the initial interest from customers in the specific product. The companies that managed to show the demand for their product will likely get the required funding.
The best way to solve this task is to create an MVP with several basic features and wait for customers' feedback. If it is positive, you can freely present it to investors knowing that your business idea is feasible.
To sum up, starting your web product with an MVP is a wise way to save time and budget, especially when it comes to creating complex solutions, for example online marketplace websites.
You may also like: How to Build a Marketplace Website MVP and Not Fail
The most successful examples of a minimum viable product
Facebook
Today we all know Facebook as a complex platform and a dominant social network. However, initially, it had a pretty simple concept. Thefacebook, launched in 2004, connected Harvard students only. The platform allowed them to publish messages on their boards.
This narrow approach helped Zuckerberg and Saverin avoid pitfalls many startups face in their early days. These challenges include investing too much time and money in software development or scaling too fast. Also, the startup was secured from providing users with unnecessary features.
Gradually, TheFacebook began adding other universities and colleges to their network. Eventually, it was rolled out worldwide becoming the largest social networking website.
Spotify
The example of Spotify shows us how to build a minimum viable product with one key feature and get great success. The company aimed at creating the best music streaming service. For this reason, for Daniel Ek and Martin Lorentzon, the task was to create an MVP with a focus on a single feature which was the crucial one - music streaming.
Spotify decided to build an MVP that was a desktop version of their app and ran it on a closed beta to prove the feasibility of their idea. This way, the company managed to keep costs down.
As it turned out, the minimum viable product offered at a freemium price perfectly matched people's interests. Soon Spotify upgraded their product by signing new artists and developing a mobile application.
Foursquare
The local-based social platform Foursquare is another example of a minimum viable product with one core feature. Its founders Dennis Crowley and Naveen Selvadurai decided to build MVP which was pretty simple. Users checked-in into various places and got badges as a reward.
As soon as Crowley and Selvadurai were convinced that there was a demand for such an app, they started implementing new features.
In 2014, Foursquare decided to get rid of check-in functionality. Instead, the startup concentrated on local search features.
You may also like: How to Make a Video Streaming Website Like Netflix
How to build a minimum viable product
Now it is high time to proceed to the key stages of building a minimum viable product. The steps listed below will help you to launch a successful product.
1. Define the problem
The first phase of building a minimum viable product is to check whether your potential product solves any users' problem. At this point, you should get initial feedback from your potential target audience. You need to get answers to the following questions:
Do they need this product?
How can it help them?
What problems will it help them solve?
The answers will help you to understand how to build a minimum viable product that has a clear product goal.
There exists a practice to find out application objectives based on your personal experience and challenges. Since personal thoughts are pretty subjective, you should ask a wider public starting from relatives, friends, colleagues, and partners: is there a problem they would want to solve in case they have a special device/tool? And then you can ask yourself: can I build such a product?
Thus, it makes sense to work on the main application idea that solves some issue and see how this idea is perceived by your potential target audience. If it is perceived well, then you can try and build MVP, and if not, then perhaps you should try another idea.
A good example of a minimum viable product with a clear product goal is Snapchat. Initially, Snapchat performed only one feature - it allowed users to send each other images that disappeared after a while. This concept was tested among the community and gained success.
2. Do market research
Well, you have chosen the product idea. Obviously, there are already similar products available, so you need to make a competitor and market analysis. Quite often, startup entrepreneurs skip this stage as they believe in their product uniqueness, but this approach will most likely lead to failure. The main reason is that the customers may already be using a similar solution, and might not be willing to switch to another one.
That is why competitor analysis is of utmost importance. You should do your homework before engaging in minimum viable product development . Analyze your main competitors, find the opportunities where you can provide a better service than them. If possible - try their products or services.
In case you see some competitors' features are better than your planned product, then it's a great opportunity for you to improve your idea, to bring even more benefits to the customers.
Furthermore, always bear in mind that it takes more than just a product to get buyers and win the competition. You can survey the competitor's product users and ask whether there are any issues to be improved. This way, you turn their weaknesses into your strength by defining how to build a minimum viable product with a hot feature that definitely will be in demand.
Recommended reading: How to Build a Multi Vendor Marketplace Like Amazon
Additionally, there are numerous tools for competitor analysis that allow gathering important data from your competitors' websites. Such tools provide you with website traffic, engagement geography, profitable keywords etc.
Here is the list of the most popular instruments:
The process of market and competitor research will also help you figure out the key audience that potentially may be interested in your minimum viable product. To choose the audience, you should tilt toward the market segments for whom it will be useful, or the ones using your competitors' solutions. You need to create the buyer persona.
A buyer persona is a semi-fictional representation of your ideal customer based on market research and real data about your potential customers. When creating your buyer persona(s), consider including customer demographics, behavior patterns, motivations, and goals. The more detailed you are, the better.
3. Define the main features and prioritize them
By the time you have executed the market research, bearing in mind the users' problems to solve, you can switch to selecting minimum viable product software features most valuable for the customers.
Firstly, you have to define the user flow. It is the path taken by a prototypical user on a website or app to get the desired result. With its help, you are able to define the required features.
For example, to arrange a taxi in Uber, you need to enter the pickup location (i), the destination point (ii) and tap "Confirm" button (iii). Additionally, you can enter some extra settings like a form of payment, choosing 'Cash' or 'Credit Card'. It is called user flow and each stage has its own 'must-have' feature for the best user experience.
After creating the user flow, we recommend you to list the features your product should have and prioritize them sorting by importance. Here comes Value Proposition Canvas - a tool which can help ensure that there is a fit between the product and market. There are three key points: Jobs-to-be-done, Pains and Gains. You need to fill in each component to define how to create an MVP product that will meet the customers' needs.
Source: strategyzer.com
Here is an example of Tesla VPC figuring out the best product-market fit.
Source: designabetterbusiness.com
After listing gain creators, pain relievers and products and services, each point identified can be ranked from 'nice-to-have' to 'essential' in terms of value to the customer. A fit is achieved when the products and services offered as part of the value proposition meet the most significant pains and gains from the buyer persona.
Now you can categorize the features by creating a table with several columns called 'must-have', 'nice-to-have', and 'additional'. Try to prioritize the features among the columns so that the top one is the most important.
Further reading: How to Build an eLearning Website Like Udemy or Coursera
4. Validate your idea with prototype
Once you have made the market research, keeping in mind all the strengths and weaknesses of your potential competitors, you should substantiate your idea before turning to the minimum viable product development stage. One of the most cost- and time-effective ways is to create a prototype before you build an MVP. This way you see how your future product will look like.
It is more effective than a static wireframe because it is very close to the finished product. Not only does it bridge the gap between conception and realization for the development team, but it can help your future customers and potential investors to understand it too.
Related reading: MVP and Prototype: What's Best to Validate Your Business Idea?
Moreover, one of the best practices in figuring out the audience is to select the narrow range of early adopters to test your idea. They are the potential users interested in the product on the stage of the idea validation. They are looking for some solution to a problem you are ready to provide. These could be your relatives, friends, colleagues, business partners etc.
Furthermore, you can use your personal network or social media. It could be forums and communities, groups, Quora, blog posts etc.
At this stage, you finally understand whether your idea is reasonable to develop further. Or vice versa, you may decide to terminate your product creation based on the previous research results.
Here's a great example of creating and testing a prototype using the approach named Design Sprint. In this approach created by Jake Knapp while working at Google, all the stages take place within 1 week:
5. Build, Measure, Learn
When you have reached the development stage, we recommend continuing your MVP creation process with the help of Lean Startup methodology called Build-Measure-Learn (BML). A core component is the build-measure-learn feedback loop.
Source: theleanstartup.com
Let's discover the cycle stages:
Build
Here you figure out problems and define how to create a minimum viable product that will solve them efficiently. Bear in mind that you need to begin the process of learning as quickly as possible. There are different options to choose from, but we want to emphasize four options of development:
Find a technical co-founder
One of the main benefits is that the technical co-founder interested in your product and idea will work as hard as you do to build a brilliant application. He will always find the routes to improve the product version because he has the same passion as you do.

Find a freelancer or a freelancing team
Instead of searching for a technical co-founder, you can hire a team of freelance developers as an option. You are able to choose from dozens of platforms like Upwork, Google search, or you may have some contacts in the required domain to find a team that knows how to create a minimum viable product.

Hire in-house developers
The middle option between a technical co-founder and a freelancer is to hire a highly skilled developer in-house. This way allows you to monitor and control their progress daily. However, this option may also be funds-consuming as a skilled professional should be motivated both by the project idea and the salary.

Find an MVP development company
The main benefit of this choice is that such agencies have vast experience in minimum viable product development . It allows you to be sure of getting exactly what you need. Having built many similar solutions, the agency knows beforehand all the methods and approaches that may be useful for your product creation, and will greatly contribute to its success.
After building a minimum viable product, you can work on tuning the engine. This will involve measurement and learning and must include actionable metrics that can demonstrate cause and effect question.
You may also like: 7 Reasons to Use Ruby on Rails for Your Startup
Measure
During this phase, you determine whether real progress is being made or not, and this involves measuring the results obtained during the BUILD stage.
Firstly, you should pay attention to Customer Acquisition Cost (CAC) and Average Revenue Per User (ARPU) - sales metrics. You can use their correlation to realize whether it is profitable to continue the development.
Additionally, you can utilize Google Analytics or Hotjar for the website to see the traffic, conversions, etc.
Learn
Here you summarize the accumulated measurements: should it "persevere", or should it "pivot"? Persevere means moving on with the same goals. At this stage, you are able to launch the final product and collect the users' feedback for the future improvements.
On the flipside, pivot leads to changing or shifting some of the product strategy aspects. It means you should change some features or choose another development strategy. Afterward, you would have to document your findings and share them.
To conclude, we can simplify the BML loop and figure out the main points:
Define whether the product idea solves the users' problem.
Quickly manage an action or a program that will test the idea with the users.
Obtain feedback from your customers.
Consider the sustainable development of the product. Will you be able to maintain the current level of engagement?
Related reading: How to Build a Website Like Airbnb: Step-by-Step Guide
Getting feedback
Having finished the BML cycle, you should always collect and consider the customers' feedback. The matter is your customers are the only people who may definitely figure what features are important or not.
There are different ways to collect user feedback data. One of the best ways is to interview and survey your early adopters - the users interested in the product on the stage of idea validation as they are looking for some problem solution you will be ready to provide.
How to find early adopters? As already mentioned, we suggest that the best channels are socials - Facebook and Linkedin groups, Quora answers, and, of course, forums and communities, like reddit threads. Basically this can be any online resource where your target audience can be found.
Benefits of working with an MVP development company
As we mentioned earlier, hiring an MVP development company is the most efficient way to build your product. This way, you increase your chances to get a working MVP solution within the predefined time-frame and budget.
Let's take a closer look at the core benefits of hiring an experienced MVP development agency:
Save costs and launch quickly
Why is a fast launch crucial for your business? By releasing your product earlier than competitors, you reduce your chances of being beaten by your market rivals.
MVP in software development supposes building the very basic functionality. In this regard, collaboration with an established company that offers minimum viable product development services saves the day.
Thanks to the vast experience and in-depth industry knowledge, developers know what functionality to include in your MVP. As a result, their expertise will save you from paying extra money for unnecessary functionality.
Also, the development approach you choose will influence the project timeframe. At Codica, we follow the principles of the Agile methodology. We firmly believe that this approach will help you see results fast, make alterations when required and what's most important – reduce the price of MVP development service.
Get the right solution for your needs
You have probably heard of a Project discovery phase - it is the first and foremost stage of any project development process. At this stage, a software development company will dig into a customer's project idea and issues it is going to solve.
At Codica, we start all our projects with discovery sessions, we take enough time to apply our vast multi-domain expertise and analyze our clients' ideas and requirements. Therefore, you can be sure that we will offer the most efficient and cost-effective way to implement your idea.
As a result of the product discovery stage, we provide customers with a project estimate, recommendations on the tech stack and functionality. Also, you will get clickable prototypes for their future MVP based on the product goals and target audience. This way, we create a user journey for an intuitive custom app that will be sought-after among the end-users.
Based on this thorough approach, you can be sure that you will get the best solution for your product idea.
Get expert advice on MVP development
Partnership with a reliable MVP company gives you access to the services of high-skilled developers. This means accumulated development expertise of building minimum viable products for various industries, combined with profound knowledge of the latest programming languages and frameworks.
Therefore, your product will be created with the right tech stack, depending on your product requirements, so that your minimum viable product can be further scaled if necessary.
At Codica, we use the most advanced technologies such as Ruby and Ruby on Rails, React.js, Vue.js. We firmly believe that they are best suited for building high-quality MVP solutions within a short period of time.
It is worth noting that the partnership with the MVP development agency does not end with the launch of your minimum viable product. As soon as your product is deployed, the specialists will be monitoring your software. If there are some bugs or issues, they will fix them in no time. The full-cycle MVP development company will support your product on a regular basis. Such an agency will be a good help if you don't have an in-house tech team.
Do you have an idea of a Minimum Viable Product?
We know how to deliver your product on time and on budget.
Talk to an expert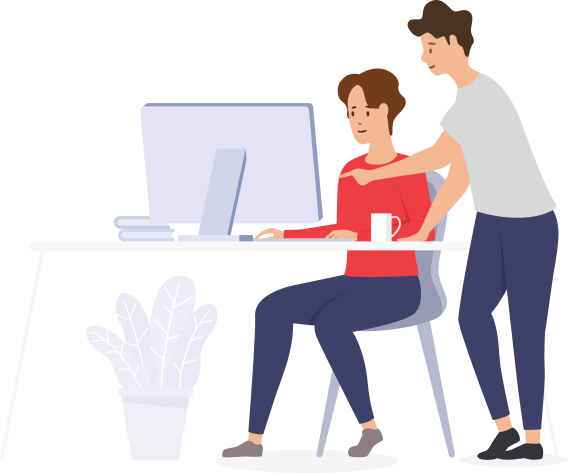 Conclusion
That is all about building a minimum viable product. We hope that this detailed guide will help you launch a successful and high-quality application.
By the moment you have collected the users' feedback, you should conclude whether it is reasonable to continue improving the product.
If there are many positive comments with useful criticism, then you should take them into consideration and go on improving the product that is already a success. In case you see the product failed to attract customers, then you may think of choosing another idea or trying to change the existing product.
To sum up, build an MVP to test your business idea and see if it is reasonable enough to create a fully-featured product. Also, it gives you an opportunity to save much money instead of injecting funds into a forehand useless product.
If you are looking to build a minimum viable product, Codica Team will be glad to help. We have extensive experience in MVP development, in such domains as marketplaces, travel, fintech, e-commerce. Let's get in touch!