Updated
13 Dec 2021
16 min read
Nowadays, different kinds of businesses are extensively moving to the cloud. O'Reilly reports that 90% of the respondent companies had used cloud services before lockdown and expect their further growth by Q2 2022. Therefore, SaaS application development looks also like a profitable venture today.
Yet, to stay afloat in the information technologies arena, you need to arm your offering with precise technology and fresh tools. In other words, you need to keep your eye on the future of SaaS to successfully build a SaaS product.
To help you deploy the promptest cloud solutions, in this post, we collected the top SaaS trends for 2022.
SaaS industry trends
SaaS trends among other cloud offerings
The popularity of cloud computing exploded in 2020-2021. Why did it happen? Organizations adopted remote work due to the pandemic and focused on delivering digital services. Undoubtedly, the growth of cloud computing will continue in 2022 and beyond.
Casting an eye on projections for this field, you can see that the future of SaaS seems to be the brightest ever.
Source: Statista
As the most mature model, SaaS has a significant lead in the cloud computing market. According to Gartner's forecast, SaaS will reach $140 million by 2022, surpassing almost twice in revenue the nearest rivals – IaaS and PaaS.
Meanwhile, SaaS is predicted to slow its growth over 2022. As such, it is going to be the third among other cloud services, having a 12% growth. Notably, IaaS and PaaS will top this list, increasing by 18% and 17% for the period of 2019-2022.
Source: Gartner
Among other cloud services, SaaS is still the most employed cloud model. Gartner forecasts this tendency will keep on going in the near future of SaaS. Thus, the expected total number for installed SaaS workloads is 397 million by 2022. In 2021, SaaS accounted for 75% of all workloads. Therefore, seven out of 10 workloads came from SaaS applications.
Related reading: SaaS vs PaaS vs IaaS: Choosing the Best Cloud Computing Model
Currently, SaaS is the largest cloud service in terms of spending. However, it is projected that the fastest growing market with a CAGR of 20% over the following years will be Iaas.
Source: Forbes
According to Gartner, public cloud services worldwide spending will total $397.5 bln in 2022. That's more than 2020 indices by 47%. Meanwhile, the IDC data provider predicts worldwide cloud services spending will reach $1 trillion in 2024.
SaaS trends and COVID-19 pandemic impact
Undoubtedly, 2020-2021 were defining years for the cloud. The use of cloud services was necessary to ensure work continuity and facilitate work solutions. Many businesses merged their existing organizational processes with cloud solutions during the pandemic. Certainly, they did it to stay on the market.
Obviously, the pandemic and market uncertainty have influenced the SaaS market trends. According to the SEG report, in March 2020 there was a fever pitch of stock selling for SaaS companies in response to the global situation.
To this end, the main market indices showed negative YTD returns. In particular, the SEG SaaS Index dropped to -25.7%, having exceeded the S&P 500 and Dow Jones indices through the sell-off.
Yet, the impact of lockdown events was not only disturbing, but also transformational. Cloud providers from the communications & collaboration area mostly benefited from the work-from-home mandate.
Notably, Zoom headed this sector with a 92% YTD rate by SEG SaaS Index as of March 2020 and remains one of the most popular meeting platforms nowadays.
Source: SEG
After the lockdown period, the state of the cloud investing market seems to be returning to normal. As such, the SEG SaaS Index rose to +4 YTD in October 2021 compared to the surge of +40% YTD in August 2020 and remains stable. So, the business future of SaaS looks prospective and quite predictable.
Below you can see two graphics that show a comparison between stock market performance in 2020 and 2021 years.
Source: SEG
Source: SEG
SaaS adoption trends
For now, cloud apps widely help employees to do their job faster and advance their performance. As a result, people from various divisions deploy SaaS applications in their work. Yet, some business units are adopting cloud products faster than others.
According to Blissfully report, during the past 2 years, the fastest growth in cloud apps usage showed:
IT Security;
Customer support;
HR.
As such, these SaaS trends may result in scaling niche markets shaping great future opportunities for SaaS.
You may also like: How to Build a SaaS Startup in 10 Smart Steps
Some of the more mature areas, like sales and marketing, demonstrated the slowest growth in cloud app adoption.
Source: Blissfully
Also, Blissfully reports that larger companies tend to use more cloud apps in total. So, we have such a picture:
102 apps is an average number for a small firm;
185 apps – for a mid-market company;
288 apps – for a big enterprise.
Meanwhile, another item in the list of SaaS trends is that larger companies deploy fewer unique cloud apps per person.
Source: Blissfully
Source: Blissfully
Interestingly, a growing waste of duplicate and orphaned apps is also one of the latest trends in SaaS. Hence, the number of duplicate apps grew by 80% from 2018 to 2019 and equals 3.6 applications per company. A similar situation is with orphaned cloud app subscriptions. Thus, they were up almost 100% for all size firms, having reached 2.6 apps per company.
That entails wasted spendings and significant security risks for a company. To this end, the issue of app-to-person relationships is on the horizon in the near future of SaaS usage. Given the cost to build a SaaS app, duplicate and orphaned applications remain a significant financial aspect of the software-as-a-service market.
You may also like: How to Build an MVP for a SaaS Startup: Practical Tips
SaaS app development trends
Artificial intelligence
In recent years artificial intelligence is steadily integrating into different kinds of businesses. According to O'Reilly, 36% of respondent organizations have deployed AI services, and 47% expect to use them over the next three years.
This catch-all trend expanded to cloud solutions and is predicted to take root in the future of SaaS. Yet, machine learning and natural language processing are already key trends in SaaS technologies. AI-powered technologies use the ability of human speech patterns recognition. Due to that, AI enhances automation, security and speeds up data handling.
The most demanded industries to adopt AI methods are social media, education, travel, and healthcare. As a matter of fact, the healthcare cloud computing market, as one of the most prospective fields, is forecasted to reach $51.9 billion by 2024.
Thus, to stay more responsive and flexible among the others, be aware of AI, one of the high-level SaaS trends of 2022.
Seeking inspiration to launch a SaaS project? Discover 10 Best SaaS Startups [2021-2022]
Vertical SaaS
Vertical cloud is another SaaS trend for 2022 and beyond. While horizontal SaaS uses a one-stop-shop approach, this model aims to meet the specific industry needs. That helps you get closer to your customers and offer them the best practices of the field.
Vertical cloud is also a pretty profitable venture. Actually, it 8x reduces customer acquisition costs compared to horizontal cloud platforms. Likewise, vertical SaaS helps you evade the cutthroat competition of the cloud space. With your unique service, you can carve out your own niche and deliver greater business value.
This tendency is expected to be one of the leading SaaS future trends. Notably, logistics and retail analytics, and health BI software are promising spheres to adopt vertical cloud for now.
A mobile-first mindset
By the year 2025, experts project that around 72.6% of the world's population will browse the internet through their mobile devices. It is a rule of thumb to operate in your customer environment. So, a mobile-first mindset is one of the most influential SaaS trends you should follow in the development of SaaS apps.
Now, entrepreneurs increasingly use smartphones to manage their businesses from anywhere. Employees, in turn, also become more mobile. Thus, cloud apps aimed at enhancing operations need to have rich functions for mobile-first users. As such, communications, project & task management are key fields to adopt this SaaS technology trend.
Therefore, we see this tendency will significantly shape the future of SaaS in 2022 and beyond. So, fast mobile apps and mobile-responsive sites are a must-have to stay competitive nowadays.
You may find it interesting: Progressive Web Apps vs Native Apps: Detailed Comparison
Micro-SaaS
The increase of micro-SaaS solutions is another example of SaaS trends targeted to meet customer needs better. They include add-ons, accessories, and extensions designed to complement other SaaS tools' functionality.
Micro-SaaS projects usually require small teams and little cost. Also, this model lets you have high margins alongside low risk and location-independency. Thus, micro-SaaS enables you to use all the cloud benefits, serving clients in your small market.
However, micro-SaaS is expected to thrive just in particular areas. They are, for instance, personnel administration, applications for email management, content management collaboration. So, this one of the top Saas trends can be a gold mine for the niche SaaS business in 2022 and further.
Shifting to PaaS
For now, PaaS is becoming more popular, keeping up with SaaS offerings. Statista reports this cloud model is growing faster than SaaS when it comes to its use. In fact, during 2020-2021, the number of installed PaaS workloads increased to 85% compared to a 21% growth for SaaS. As this happens, many companies opt to shift to PaaS, advancing their products today.
So, what are the main reasons for this SaaS software trend? Actually, PaaS is an excellent choice for businesses to create their own custom apps. It enables developers to build software faster, easier, and cost-effectively. Also, PaaS has rich options for customization to make your venture agile for scaling.
With all this, solid data protection remains a top advantage of PaaS. At the same time, for 67% of customers, cybersecurity is the biggest concern for SaaS model adoption. That is why shifting to PaaS can be game-changing in the near future of SaaS.
Notably, according to Gartner, PaaS cloud services spending is forecast to reach $71.5 million in 2022, up 54% from 2020.
Recommended reading: Choosing the Best SaaS Hosting Provider for Your SaaS App
Customer Experience
SaaS industry overview shows that many Saas companies suffer from a lack of customer service.Thus, it will become an important issue to solve in 2022.
Unsurprisingly, customers prefer solutions that aren't too complex and meet their specific needs. Consequently, SaaS providers offer more options to potential customers — improved personalization, white labeling, more ability to customize, APIs, etc.
Furthermore, SaaS providers are increasingly focused on simplifying their services to retain customers. The ease of use is a big advantage, especially for small businesses.
Let's see what different companies say about the importance of customer experience as one of the main Saas trends for 2022:
96% of consumers say customer service is important in their choice of loyalty to a brand. (Microsoft)

83% of companies that believe it's important to make customers happy also experience growing revenue (Hubspot)

90% of global executives report that they improved their ability to deliver a great customer experience. (Medium)
So, to sum up, it is worth paying attention to customer experience as one of the Saas trends for 2022.
At Codica, we have been delivering SaaS products since 2015. And customer experience is also one of our priorities. For example, we succeeded in creating a collaboration platform - Digital Village - that allows entrepreneurs to connect with digital experts, create teams, and work online on projects.
We have created a simple and user-friendly interface, advanced search filters, and a convenient admin panel to improve customer experience. As a result, our client could successfully present the first web application version for investors and launch it.
For now, this platform is still broadening. We communicate with the client, and help to enhance and expand Digital Village.
This is one of the examples of the projects our experts delivered, please find more in our portfolio.
Recommended article: How to Choose a Reliable SaaS Application Development Company
Blockchain
Let's consider another trend that will be the future of SaaS industry.
The use of the blockchain technology is a novelty in the software-as-a-service market. Certainly, SaaS companies have to provide transparency and security for users. Nevertheless, SaaS works on centralized databases, which are vulnerable to cyberattacks.
Meanwhile, blockchain technology is a distributed system that regularly verifies new data records. Furthermore, when new records are added, the technology copies the entire blockchain. Hence, blockchain can eliminate the data insecurity problem and be the main of the future technologies in SaaS.
Also, blockchain can help ensure payments security. In one of our projects - Insurance Application - we implemented the blockchain technology for this particular reason.
Many experts consider blockchain can change the cloud industry. As an example, fifty-seven percent of respondents agreed that their organization should adopt blockchain technology to remain competitive on the market.
Supposedly, the integration of blockchain can improve control over cloud platforms of companies.
Simply put, this is one of the main SaaS trends for 2022 you should watch.
Further reading: SaaS Product Development: Why Choose Ruby on Rails Framework?
Enhanced security
Without any doubt, high data protection is the future of SaaS industry.
It is an important issue, because the speed and depth of digital transformation not only provide business benefits, but also create cyber risks.
For example, according to Gartner's forecast, attacks on enterprise APIs will become one of the pursuits of hackers in 2022. Businesses will have to protect themselves and their customers from data leaks. Developers - to raise the bar of their products' security.
Obviously, security and compliance risks are the main barriers to realizing the benefits of the cloud. Definitely, security is a deciding factor in choosing a cloud partner. Hence, it is essential not to render your business vulnerable to cybercriminals and improve data protection.
Further reading: SaaS Security Checklist: Best Practices To Protect a SaaS App
Unbundling
And now we will consider another one of the latest SaaS trends for 2022. Here, we will mention the unbundling trend.
Many companies bundle their SaaS software together for a fixed price. But sometimes, businesses do not require every part of the software that comes with a bundle. By unbundling SaaS applications, SaaS vendors can offer more flexible pricing for customers. Moreover, SaaS industry overview shows that customized SaaS solutions are preferable because they suit customers' specific needs.
Therefore, the unbundling trend has become popular among top SaaS trends. Thanks to unbundling, Saas vendors can provide more personalized solutions for customers.
Source: FourWeekMba
You may also like: Why SaaS Startups Fail: Most Common Reasons and How to Prevent Them
White-labeling
White-labeling is another example of fast-growing SaaS trends. It enables startups and small businesses to quickly enter the market, avoiding the hassle with the development of SaaS apps.
So, what is white-labeling in the cloud industry?
In a nutshell, a supplier sells unbranded cloud solutions to agencies to put their branding and resell them at a profit. The key feature of the white-labeled cloud apps is that they are fully customizable to look like it's yours.
Source: Email Vendor Selection
In such a way, companies with different expertise can deliver the features needed right for the customer. Besides, this model lets your business scale with little to no overhead costs. As such, you can get higher revenue per client using it.
By the way, social media, email marketing, mobile applications, SEO, and SEM management are thriving fields to use this trend in the future of SaaS.
Do you want to build a highly scalable SaaS solution?
Talk to Codica SaaS experts and learn how to quickly bring your idea to reality.
Learn more about SaaS development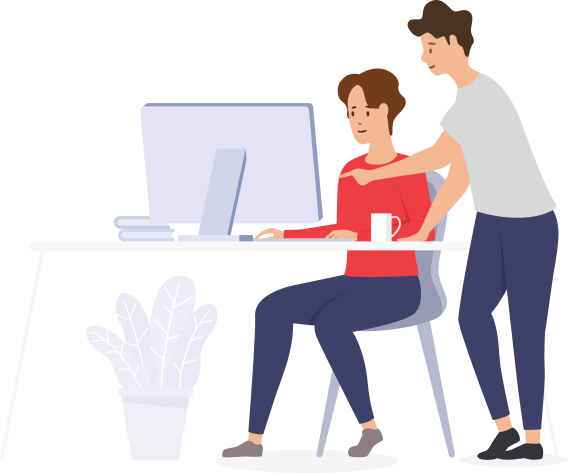 Shaping the future of SaaS: Summary
Today, the industry of SaaS application development promises excellent business opportunities for entrepreneurs. However, technologies and customer demands are continuously moving on. To win this digital battle, you should know about things happening in this field.
Given the recent trends, we see the future of SaaS in expanding small niche markets being caused by Micro-SaaS and Vertical SaaS trends. Also, AI, shifting to PaaS, and white-labeling trends lead to more complex and personalized cloud offerings coming into play.
Undoubtedly, the improvement of data security will also be a crucial SaaS challenge in 2022. And furthermore, you should pay attention to customer experience.
Finally, a mobile-first mindset is a given while building cloud apps in 2022 and beyond.
We hope our list of the latest trends in SaaS will help you stick out the crowd and gain an advantage over your rivals. Codica's expert team is always ready to provide a consultation or help you with SaaS development. Do not hesitate to contact us if you need assistance!