Updated
22 Mar 2022
21 min
Recruitment is one of many domains that has shifted online. So, many job board websites provide services for job seekers and employers to facilitate the employment process. Glassdoor is one of such outstanding helpers.
How did Glassdoor become a game-changer? How does Glassdoor make money? How can you build a website similar to Glassdoor?
In this article, we discuss what is unique about this platform and how to build a website like Glassdoor.
What is a job portal website?
A job board website is an online resource that allows search for jobs and candidates for open positions.
The platforms enable posting and applying for job openings in existing companies and writing reviews. Different job websites provide particular services helping to find a new job. Let's see who are the market leaders in this domain.
Sites like Glassdoor
Indeed. The website has over 250 million visitors per month. It suggests job seekers free access to job search. Applicants and current employees can assess companies, add reviews, and ask questions. It is Glassdoor's sister company working in partnership with Glassdoor since 2020.
Ziprecruiter. The employment marketplace uses Artificial Intelligence to match candidates and employers. It helps users create a job, recruit, and hire candidates. Ziprecruiter also allows candidate screening and applicant tracking.
LinkedIn. This social network helps recruiters to find talents. The platform has a large community of companies and specialists sharing professional information.
Fiverr. The online marketplace helps freelancers to bid for projects. The companies purchase the services outlined in freelancers' profiles on Fiverr.
Upwork. It's another platform for freelancers. This peer-to-peer website allows candidates to bid for a project by writing an application and a cover letter.
Further reading: How to Create a Website Like Upwork
Monster. The job portal website works in over 50 countries. It is unique for giving excellent career advice. For example, it helps create resumes, even in video or podcast format. This trend is new but has already gained popularity.
CareerBuilder. It helps employers to find talents with a base of over 80 million resumes. The platform helped users find job offers and recruit for more than 20 years of its history.
JobStreet. It is one of Asia's leading job search engines. It helps applicants to search for jobs in Malaysia, Singapore, the Philippines, Indonesia, and Vietnam.
MadGex. The company suggests software for recruiting. The job portal website has a vast audience of job seekers who can find jobs and training courses. Also, it enables companies to set up the job recruitment process to make it more efficient.
SmartJobBoard. The platform provides applicants and employers with job search and recruitment services. It helps job seekers to adjust their profile and search filters to discover the best matches according to their criteria. Employers can customize their profiles for posting jobs, searching applicants, conducting payments, etc.
OneJobSlot. It is software that facilitates the recruitment process. It includes applicant tracking allowing companies to find the right candidates easily.
How to build a website like Glassdoor?
1. Glassdoor history and overview
Glassdoor was founded in 2007. The founders, Tim Besse, Robert Hohman, and Rich Barton, before worked for Expedia.com and left it to create the Glassdoor company.
In 2007, job seekers needed to turn to their friends to learn about the company's working conditions and salary. The job-seeking process meant inequity as one party was more informed than the other. This understanding of asymmetry led to the idea of creating a website that would make both sides equally informed. So, the trio created a simple job board website named Glassdoor.
In the beginning, the co-founders needed to get first reviews, which was challenging. Therefore, they asked people they knew to leave reviews on the website. They also asked their friends to raffle an iPod to engineers from Silicon Valley in exchange for reviews and salary numbers. That's how the Glassdoor job posting website got their first 1000 reviews.
The website was officially launched in 2008. The number of content pieces raised to 100,000 within 48 hours after launch. Below you can see how Glassdoor looked in its early days.
Today Glassdoor has 50 million reviews and insights for over 1 million companies, and job posts are sent to over 100 job boards.
The job board company raised $204.5 million in total over ten rounds.
In 2020, Glassdoor partnered with Indeed. Together, the two job board websites unite the base of 80% of job seekers in the US.
2. How does Glassdoor make money?
Glassdoor uses a freemium business model. The services are free for job seekers. However, they charge employers for posting jobs and providing them with advanced features. Employers can submit job posts through Indeed, Glassdoor's partner.
The job board Glassdoor suggests free access to its content for 12 months for job seekers and students. After this period expires, a job seeker can extend the access for another 12 months by contributing a review.
Let's discover how the Glassdoor job board makes money in more detail.
Job posting. Glassdoor applies a freemium-based approach for small businesses. The first three job offers are free. Beyond that, the charge is $249 per job post. If paid listings are sponsored on Indeed, they're also sponsored on Glassdoor.
The platform's monetization model includes different packages for medium and large enterprises. There are three plans on the Glassdoor job board platform: Free, Standard, and Select. Each of them suggests a specific range of services and conditions to list jobs. For example, the Select package includes premium features unavailable in the Standard package.
Premium packages of other job board websites also include resume access fees. They allow employers to look through the applicants' personal and contact information.
Job advertising. Like other job boards, Glassdoor allows posting ads that aim to bring attention to certain listings by moving them up in the feed. Job ads are included in premium packages and depend on the number of job postings and promotions.
Employer branding. This Glassdoor service refers to how a particular company is presented on a job portal. Employers can add photos, promote favorable reviews, remove competitor ads, get analytics on their engagement, and more. Below, you can see Apple's presentation on Glassdoor.
You may also like: Successful Online Marketplace Revenue Models
3. Present your value
There are many job websites out there. If you aim to make your business successful, you need to define the value of your job portal website. Your site similar to Glassdoor needs a unique vision that helps solve the problems of your target audience to stand out among other job boards.
For example, Glassdoor focuses on reviews about companies from current or former employees. They include information on the companies' salaries, benefits, leadership, and more.
Glassdoor makes the hiring process open and transparent equally to employees and employers. So, reviews with salaries and information on the company's culture work on both sides. Favorable ratings and reviews allow job seekers to discover the companies. At the same time, companies may respond to negative reviews and solve the employees' issues. This is a win-win path both for job seekers and employers.
There are plenty of websites with similar rating services. But Glassdoor was the first to tackle the problem of transparency during the hiring process.
Before investing in your project, we recommend that you check your idea's uniqueness and what value it will bring for your customers. A great way to do this is through a product discovery phase. This stage will help validate your idea and make informed decisions, and what's most important: avoid wasting your time and budget.
4. Choose functionality
The Glassdoor job board platform is known for its concept of contribution. You can see other people's anonymous reviews and salary data after you give value to the website community. For example, it implies indicating your position, salary, and current company review.
Employees' reviews for different companies are helpful when choosing the company. Company review sites like Glassdoor include information on culture, career growth potential, work-life balance, and salaries.
The website functionality is based on its type and user roles. In the case of Glassdoor, the roles include employees, employers, and admin.
There are useful tools that the Glassdoor job board website created to improve the user experience. They also may be included in your project. Let's see what they are.
Glassdoor features for job seekers:
Profile. The profile on the job board Glassdoor includes a candidate's resume, professional skills, contact information, and an optional profile picture. It includes a step-by-step process for registration on the website.
Uploading resume. A job seeker can upload a resume on the website with this feature. Candidates send resumes to recruiters or use the resumes when applying for open positions. A converting feature is an excellent addition to this function. It allows a candidate to convert their existing resume into an editable form on the website.
Job search tool. It allows searching for job postings with personalizing aspects, such as location, salary, post date, distance, job type, and more. The feature allows employees to view a company's rating and basic information, average wages, and benefits. Search results appear depending on the filters the user checks.
Glassdoor included the following extensions in the job search tool to personalize the search:
Preferences.

An employee chooses a particular job indicating the position, salary range, location. There is an option to select a preferred company. Also, sites like Glassdoor suggest key aspects to choose from, such as benefits, work-life balance, leadership, a team, etc.

Benefits.

They include work from home, gym membership, tuition assistance, and more. From employees' reviews, a job seeker can understand if the company applies benefits, such as a 20-day vacation and paid sick leaves.
Glassdoor's job alert tool. If a job seeker enters the information about their position and location, Glassdoor sends them an email with the vacancies that fit best. It relieves the user from looking for a job offer on their own.
Glassdoor's Know Your Worth tool. It helps to calculate what salary an employee deserves. This feature of Glassdoor allows finding out a salary range according to position, years of experience, and location.
Company reviews. The company information includes the following aspects: company name, company ratings and reviews, pros and cons, advice for management. Glassdoor company reviews come as a contribution from employees. Based on such reviews, job seekers can make a list of questions about a company to ask a recruiter.
Apply for a vacancy/contact a company. After searching for a particular job and uploading a resume, an employee can click on the "Easy Apply" button and apply for the selected job in one click.
Bookmarking. It allows employees to save companies in favorites and see application history.
Glassdoor features for employers:
Company profile. It highlights the information about the company and its mission.
Posting jobs. The feature allows companies to post job openings. Companies typically indicate the position, qualifications, and salary.
Responding to reviews. This feature allows handling the company reviews with the ability to reply to negative ones.
Search for applicants. It allows viewing candidates' profiles and choosing the best matches for job descriptions.
Glassdoor's Review Intelligence. It is an instrument for getting stats on a company's performance. The tool shows how other job seekers perceive your brand. Review topics give insights on management, culture, diversity and inclusion, and leadership of a particular company.
The Review Intelligence gives the results in the form of sentiments that include the following:
Infographics with estimates about a company's success and vulnerabilities;
Comparison to the company's competitors;
Measurable data on how parameters in the sentiment change over a specific timeframe, for example, six months;
Changes of the volume of reviews over time by particular topics;
Benchmarks by industry and company size.
The weaknesses shown with the Review Intelligence allow eliminating the detected issues. At the same time, the approach to the stats should include human factors when assessing the Review Intelligence data.
Other technical aspects for a job board website like Glassdoor may include the following:
Application tracking system. This feature allows recruiters to see the movement of an applicant through the employment process. It shows if the applicant passed the screening tests or interview or filed the documents. It can be built-in or integrated by third parties in sites similar to Glassdoor.
Video interviewing. This method helps recruiters speed up the hiring process. This feature integrated into a website will save time both for job seekers and employers.
Security. Large volumes of personal data stored on the website need to be protected with reliable security technologies. Security ensures safe handling of users' data on the company review site like Glassdoor, including payments.
Search algorithms. With search algorithms, recruiters don't need to spend their time looking through the resumes that don't fit their requirements. The program with search algorithms assists in filtering the resumes making the search on sites like Glassdoor faster.
Content optimization. Optimized website content is valuable for job seekers and companies. Glassdoor website maintains content with helpful advice and insights for both parties.
Moderation. As a job board website like Glassdoor processes many reviews and responses to them, a good moderation is a must. Moderators ensure that the users adhere to the website rules. Also, they consult users on the found issues and solve conflict situations.
At Codica, we carefully explore the product to define the needed functionality. We use technologies with proven track records. This approach helps us create fast-loading and reliable solutions. For example, check our online news aggregator. It is a solution with sophisticated functionality and high performance.
Related reading: How to Create a Job Search Website like Indeed: 3 Fast Solutions
5. Choose building approach
When deciding how to create a job board website like Glassdoor, the right instruments and approach are vital. They help you create a user-friendly website.
Modern technologies suggest many tools used in templates or custom development. Let's discover the most popular technologies that you can use for building a job board website like Glassdoor.
WordPress. It's a free and open resource that allows power and customize websites. It has cost-efficient hosting and plays greatly with third-party integrations. What distinguishes WordPress is its wide range of themes that help you create a job board. They come with built-in customization features for layouts, buttons, color palettes, and more.
Pros:
Facilitates SEO optimization;
Integrates well with third-party apps;
Easy and customizable updating;
Suitable for different types of websites.
Cons:
Requires at least minimum programming skills to navigate the WordPress code;
The need for frequent updates may impede compatibility;
Scaling is impeded as with high loads the WordPress website crashes;
You're responsible for security, making backups, and installing updates.
When to use:
If you need a simple solution;
If you're short on budget for website development;
If you want to roll out quickly.
Custom development. Custom software development optimizes business processes, increasing the productivity of organizations. Custom solutions are easily scalable. They bring flexibility in making updates and allow adding advanced features.
Custom development includes the necessary security encryption and certificates for your solution. So, such products are secure.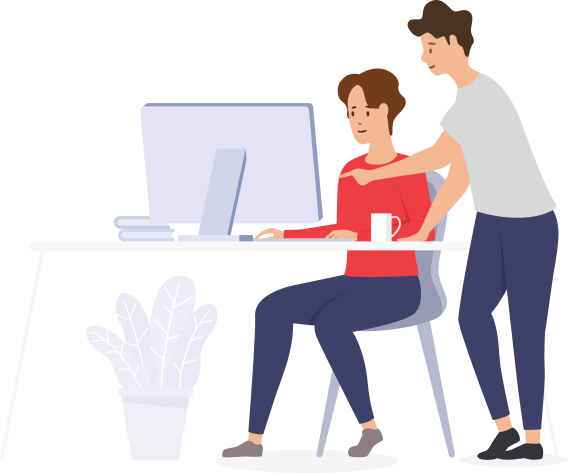 When building a job board website, it is vital to know the technologies behind the scenes. The Glassdoor tech stack includes the following:
Programming languages — Python, JavaScript, Java, Python, C lang, HTML5, CSS3
Application Framework — Node.js, Express.js
JavaScript Framework — React.js, Emotion.js
Search — ElasticSearch
Data query and access — Slick, Immutable.js
CDN & security network — Cloudflare
When you build your job board website, you will choose the technologies according to your website requirements. So, they may differ from the Glassdoor tech stack.
At Codica, we recommend the following techstack when building a job board solution:
Website:
Frontend framework: Next.js
HTML/CSS framework: Material UI
Server-side:
App Server: Puma
Framework: Ruby on Rails
Admin: ActiveAdmin or ReactAdmin
Database: PostgreSQL
Search: ElasticSearch
Container: Docker
Additional:
Hosting: Amazon (Standard AWS billing option)
Cloud storage: Amazon S3
Database storage: Amazon RDS
Our techstack varies for each project and is adapted to the client's needs.
Also, we recommend that you create a minimum viable product for your website first. The MVP includes the key features that allow you to test your product and see how people use it. With MVP software development services, you will learn if your product meets market demands and what core features you should add or improve.
6. Create the design
Design is the first thing users see when coming to your website. According to the Top Design Firms survey, 50% of consumers consider design crucial for a brand. The custom design improves user experience and influences further purchases.
Companies like Glassdoor rely on the UI/UX design services that build trust in their brand. Let's see what they are.
Clear message. Sites like Glassdoor apply a simple design. It clearly outlines the purpose and structure of a website. Also, a clear design highlights the products and services unique to a brand. So, they're visible to users.
Visuals. Other aspects that users value in web design are colors, images, and typography. These design tools help to highlight your website style. For example, Glassdoor website design includes green and gray colors conveying a friendly yet solid feel for users.
Navigation. The job boards' navigation is crucial for retaining visitors. It should be consistent and intuitive, helping users to migrate between pages and categories on your website. For example, a Glassdoor clone should include a simple arrangement of tabs for employees and employers.
Further reading: Online Marketplace Design
7. How much does it cost to build a website like Glassdoor?
When building a job board website like Glassdoor, you should consider many factors.
Basically, the cost of your solution depends on the complexity of your project and the approach you choose for development. For example, if you opt for a company specializing in custom development, the price will increase.
The main points that you should consider choosing a development company are the following:
Reviews from their existing clients;
Portfolio of completed projects;
Expertise in your domain;
A company's development approach;
The company's location and hourly rates.
We prepared the table that gives an approximate cost for developing a Glassdoor clone helping you estimate the price of your project:
How much does it cost to build a website like Glassdoor?
Features
Time, hours
Cost, $50/hour
UX/UI Development
42 hours
$2,100
Authorization and Security
72 hours
$3,600
User Profiles
42 hours
$2,100
Home page
84 hours
$4,200

Payments

42 hours
$2,100

Notifications

32 hours

$1,600

Search and filters

96 hours

$4,800

Company reviews

44 hours

$2,200


Messenger

32 hours

$1,600

Company page

42 hours

$2,100

Job listings

48 hours

$2,400

Wishlist

32 hours

$1,600

Job posting

48 hours

$2,400


CV builder




96 hours

$4,800

Salary calculator




64 hours

$3,200

Employers panel

82 hours

$4,100

Applicants panel

84 hours

$4,200

Admin panel

96 hours

$4,800

Total
1,078 hours
$53,900
Therefore, the rough cost to create a website like Glassdoor is $53,900.
These are typical features that are included in job boards. The cost above is applicable for the providers working in Eastern Europe, for example, Ukraine. If you prefer to work with a development team based in the US or Europe, the numbers will differ. Also, these numbers are approximate, and only the company that will help you create a job board, will provide you with precise quotes.
How Codica helps build websites similar to Glassdoor
If you want to build a job board website like Glassdoor, Codica is eager to help you. We have vast experience in creating custom software and websites that will keep your users engaged.
We will help you discover the viability of your idea with the help of Discovery sessions. So, you'll know if it's worth putting effort into your own job board.
During the initial discovery stage, we make a thorough analysis of your goals and audience. Thus, we bring you the best solution establishing a connection with your audience.
To give you an example of our expertise in the recruiting domain, we created a global custom recruiting platform that links to the most popular job boards.
We helped the client to launch the website with customized desktop and mobile versions quickly. It includes convenient functionality and attractive design. For instance, it allows posting vacancies and seeing the relevant statistics for job openings. Also, the app uses helpful integrations, such as secure payments and translation.
With custom development, we will help you create an intuitive and engaging solution that will help develop your brand.
Ready to build a website like Glassdoor?
Glassdoor was created with the aim to make the hiring process transparent, and the idea appealed to people's needs. Such success shows that choosing your niche is vital for growing your website like Glassdoor.
Building a website like Glassdoor involves many aspects to consider. But the main goal is to make it attractive and convenient for your customers.
Did you come up with an idea for a job board website? Codica offers many custom software development services. Thanks to our expertise, we know how to deliver an attractive and intuitive solution highlighting your brand's uniqueness. Check our portfolio or contact us to discuss your project idea and get a free quote.