Updated
17 Jan 2022
12 min read
Global lockdown due to Covid-19 made companies extensively shift to working from home. Apparently, telecommuting integration turns out to be deeper than we all expected.
It is clear now that online work from home is going to be the "new normal" in 2022 and beyond. As such, to stay on track, you need to keep your eye on upcoming changes.
In this article, we collected the main remote work trends to help you better adapt to the post-pandemic era. Here, you will also learn the key reasons why remote working is the future.
Trends in remote working vs in the office
Telecommuting and cybersecurity tools adoption
Clear and fast remote collaboration became a priority when the pandemic started. Thus, many companies had to rethink their communication frameworks. As a result, the issue of appropriate remote work software is on the agenda in the post-Covid-19 world.
Related reading: Top 10 SaaS Trends to Watch in 2022
The increased adoption of telecommuting tools has entailed associated remote work trends. Notably, there is greater demand for apps' productivity tracking and technical support now. Yet, video conferencing is still a central remote work technology trend.
Employees who had rarely used video conferencing already appreciated its value. It helps them understand their colleagues better and make more accurate work decisions. Likewise, video calls help staff be more engaged at meetings.
How to Build a team collaboration tool?
See how Codica created a team visualization tool with advanced functionality.
Check our case study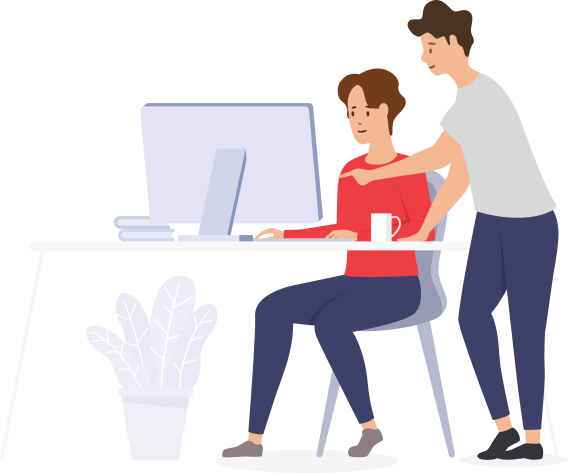 The need for advanced cybersecurity is another IT-related remote work trend empirical. It is not a coincidence that companies that create SaaS applications place emphasis on the security of the products they deliver.
Cisco reports that 85% of the respondents agree that cybersecurity is more important now than before the pandemic. In 2021, 33% of the firms surveyed by IDG plan to spend more time on security management activities.
Source: IDG
Also, according to Gartner, two thirds of global enterprises are going to increase their investment in cybersecurity during 2022.
In particular, virtual desktops and remote desk biometric identification can enhance cybersecurity today. Yet, companies should have a structured approach to IT operations to be on guard now.
Reshaping HR practices
A critical requirement of telecommuting has shaped current HR remote working trends. Due to this, HR leaders are forced to review their usual practices.
With hiring and onboarding move online, HR needs to invent a worker's virtual journey. Performance management and firing practices also demand transformations today. Departing from in-person conversations, HR specialists should adjust these practices to working from home.
Cultivating virtual socialization is also one of the key work from home trends. Lack of interaction is the greatest loss for remote teams. That is why video meetings and online 'corridor chats' should become regular practices now.
Source: Remote-How
Time-off and socialization when working from home are just as important. To this end, after-work online sessions can boost emotional bonds and provide effective workflows.
Interestingly, paperwork digitalization is among the rising HR remote work trends too. With expanded data collection, HRs need to shorten their clerical work now.
Hence, human resources are on the verge of major transformations. Now, they have to boost remote commandery and invent a new worker experience.
Acceleration of upskilling
Global digitalization has been recently transforming the jobs and skills needed. A sudden shift to working from home speeded up these processes and just made them more urgent. Remote work trends stats say that at least 54% of the staff will need significant reskilling by 2022. Thus, upskilling is going to be one of the most profound remote working trends of the near future.
Now, employers have to shift away from specific roles towards the skills needed for a company. Thus, managers need to craft a skill set that will help employees to respond to the changes better. Notably, workers should also improve interpersonal skills for the work from home future.
Source: McKinsey & Company
Therefore, quick adoption of upskilling programs is the next step for businesses. Companies should organize internal training for personnel to help them gain crucial skills.
Accelerated digitalization of educational programs is among current work from home trends too. WEF found that 42% of respondents plan to speed up upskilling digitalization in response to Covid-19. It will optimize learning efforts by making them more personalized and cheaper.
Source: World Economic Forum
To sum up, it is vital to encourage personnel to get cross-functional knowledge now. Accordingly, organizations should invest heavily in the digitalization of training programs.
Moving to human-oriented organizational culture
Since the pandemic has influenced business significantly, corporate values are also transforming now. Curiously, remote managers admit defining a unique team culture as one of the hardest tasks nowadays.
Source: Remote-How
Pre-pandemic company culture prioritized staff performance, but now, worker safety is foremost. With that, performance metrics are becoming more flexible. In this way, people-centric business orientation is becoming another remote work trend.
To keep a unique culture under working from home, companies tend to meet the staff needs better. To that end, they offer extended medical, social, financial, and emotional help now.
Shifting to online work from home has undergone changes in leadership styles as well. Thus, managers should be able to build strong communications with remote staff first. No less critical for them to have good listening skills now. With this ability, managers can make remote employees feel engaged and valued.
US national trends in remote work
Working from home has become a critical demand for millions of Americans due to the lockdown. Yet, the crisis has not affected all the job sectors equally. Because of different access to online work from home, a cross-sector imbalance has occurred.
Now, let's check what are the specific US national trends for working remotely.
Telecommuting adaptivity
McKinsey & Company reports that IT is one of the domains with the highest potential for working from home. They keep 58-69% of their productivity shifting to the "new normal".
Meanwhile, sectors with the lowest telecommuting adaptivity remain 7-20% effective. Notably, construction, food & accommodation services, and agriculture are among the most vulnerable fields.
Source: McKinsey & Company
Trends in job losses
It comes as no surprise that industries with employees being able to work from home experience lower employment losses now. Obviously, the work from home future trends will become more and more popular.
McKinsey & Company report that the demand for employees in the STEM occupations may grow more than before the COVID-19 pandemic.
Related reading: The Latest Trends in Web Development to Follow in 2022
Lasting remote work trends also put at higher risk certain professions. Because of consumer behavior changes during the crisis, some positions may not stay as mass as before. Thus, McKinsey & Company notified that the major negative impact of the pandemic will affect workers in food service, customer sales, and service roles.
Source: McKinsey
Glassdoor determined the jobs that will suffer most due to work from home future. They are, for instance, audiologists, event coordinators, product demonstrators, and opticians.
Source: Glassdoor
Stock market tendencies and telecommuting
Similarly, remote work trends have influenced stock market performance. According to MIT Sloan, over Feb 14 – May 15, 2020, telecommuting-friendly sectors had a 7% stock market increase. Meanwhile, the most exposed companies showed an 18% stock market decline during this period.
Recommended reading: Key Trends in Digital Marketplace Industry in 2022
According to MIT Sloan, financial effects of COVID-19 will linger into 2022. Below you can see the forecast of earnings growth of the top companies until 2024.
Source: MIT Sloan
Telecommuting is here to stay: why remote working is the future?
Clear benefits of telecommuting for both employees and employers will make the future of remote working to be lasting. According to the Remote-How survey, 87% of managers believe that working from home is the future.
Likewise, Glassdoor's statistics for the future of work from home say that 70% of employees prefer a hybrid remote-office work. So, it is worth paying attention to this one of the remote work trends post-covid world needs.
Source: Glassdoor
So what are the main reasons for such a tendency? In a nutshell, working from home opens additional perks for entrepreneurs and workers. As a result, it enhances flexibility and cost-effectiveness of doing business.
To be more exact, work from home opportunities for employees cover the following:
Flexible working hours: better life-work balance.
No need for a daily long-distance commute.
Less stressful home-office environment.
Location independence when choosing a new employer.
Further reading: How We Created a Job Matching Web Application
As for entrepreneurs, they have got such work from home opportunities as:
Lower overall business costs (real estate, utility payments);
Smaller expenses for business trips;
Lower costs for compensation and benefits;
Higher employee productivity;
Short-term sickness absence of staff;
Opportunity to hire talents overseas.
Yet, to benefit from remote work trends, employers need to get through some challenges. As such, trust issues are among the top factors to hinder a thriving future of remote working.
Source: Remote-How
To that end, employers need to build trusted relations with their personnel first. No less important, employees should have a clear idea of how telecommuting should be carried out.
You may also like: 16 Latest UX/UI Design Trends That You Should Know in 2022
In conclusion
Today, working from home is becoming the new norm, whether we like it or not. So, running your business these days, you should adjust to the pros and cons of telecommuting. Thus, structured communications, business humanization, and upskilling are must-haves in the post-Covid-19 world.
We hope our list of the latest remote work trends will help you adapt better to the new reality. Codica team wishes you to reap all the benefits of telecommuting doing your business now.
Do you have an idea of a web product and looking for a remote development team to bring it to life? Codica's experts would love to help you! Contact us for a free quote.