Updated
17 Nov 2022
23 min
2023 is expected to be a good year for the online marketplace industry. Amazon's sales are expected to generate $491 billion from 2023 to 2027. That is what Statista's data predict.
In recent years, online marketplaces have indeed become thriving businesses. Their number grows by leaps and bounds and shows no signs of stopping.
As a result, the competition becomes steeper than ever before. The only way for business owners to stand out from the crowd is to implement the latest marketplace trends earlier than their rivals.
To prepare you for the battle for leadership in the digital commerce domain, we created a list of top online marketplace trends in 2023. What are they? Let's find out.
1. Online sales growth due to the COVID-19 pandemic
The online marketplaces industry is flourishing. Undoubtedly, the coronavirus pandemic has become a catalyst for e-commerce. Quarantines, self-isolation, travel restrictions - these measures have led to increasing online sales influencing digital marketplace trends.
As a result, more and more brands started growing their businesses on the Internet and got involved in online marketplace development. Selling online can give you new opportunities for business growth.
For instance, Macy's, a store chain, launched a curated digital marketplace in September 2022. It follows the model set by Amazon, Target, and other retailers that have successfully provided a platform for other sellers. Macy's made this decision because digital sales continue to outperform in-store purchases.
Matt Baer, a chief digital and customer officer at Macy's, Inc, said that their e-business had been targeted to reach 10 billion in sales by 2023. It is a big step forward, as the company suffered heavy losses during the closure of the malls.
Another example is the company Walmart which has grown through online sales to near Amazon's level. Walmart adopted the online-sales trend in the marketplace domain properly.
According to Marketplace Pulse data, Walmart Marketplace reported $152.90 billion dollars of total retail sales in Q2 2022.
In the table below, you can see the continuous increase in e-commerce sales worldwide.
Source: Wakeupdata.com
To sum up, one of the main e-commerce marketplace trends at the start of the pandemic was the rapid growth of online shopping. Millions of people, during self-isolation, had to buy a lot of things on the Internet. And despite the weakening of the lockdown, many customers remain in the habit of purchasing many things they need online.
Therefore, taking into account all changes in the world, businesses need to look for new channels and tools to work with clients. And the development of online sales is the main one.
You may also like: 14 Top Ways to Attract Sellers and Buyers to Your Peer to Peer Marketplace
2. Mobile shopping
Let's consider the next current trend in the marketplace domain.
In recent years we have witnessed the rise of mobile commerce. Its rapid spurt was caused by the growing number of smartphone users globally. Current data shows that this marketplace trend is not going anywhere soon. Insider Intelligence predicts that mobile commerce will hit almost $620.97 billion, or 42.9% of e-commerce sales, by 2024.
So what should you do to please mobile shoppers and grow your profit? First, before you launch a marketplace, make sure that your future platform has a robust, responsive design. Smartphone owners should be able to find and purchase the required items just as fast and easily as desktop users.
Another option is to convert your existing ecommerce marketplace platform into a fast-loading progressive web app. This technology provides mobile shoppers with a native app-like experience. In simple terms, users can get push notifications and work offline.
For example, recently, our team helped a client create the first online auto marketplace in Africa. With our multi-vendor marketplace development, this platform covers Africa and South American regions and provides a connection between buyers, car dealers, and sellers.
When we were working on this multi-vendor marketplace, our priority was to create a mobile-friendly platform since we knew that most of the target audience would use it from a smartphone.
We implemented the PWA technology and ensured such key requirements as the website's high loading speed, mobile optimization, user-friendly interface, and advanced searching filters.
In recent years, PWAs have become a remarkable online marketplace trend. It is no coincidence that many big online marketplaces have invested in progressive web app development. With the help of PWA development services, brands can improve conversion rates and engage more with their customers.
You may also like: 10 Best Examples of PWA
3. Vertical marketplaces
Another noticeable marketplace trend is the shift towards vertical e-commerce platforms. Vertical marketplaces focus on a specific niche and offer products of a certain category. Vertical vs horizontal companies differ in that the first ones serve a group of customers with a specific interest. Meanwhile, horizontal marketplaces offer products of different categories.
Today, business owners tend to narrow their focus when it comes to the products they are going to offer and the customers they want to serve. So, if you decide to invest in marketplace development, consider building a vertical platform. For example, you can build an online travel marketplace or online collaboration marketplace.
This way, you will be able to stand out from the crowd and increase your customer base.
You may think about it this way: it is unlikely that users will want another Amazon or eBay. These platforms offer various products that suit every taste or budget. Consequently, these digital marketplaces can meet the most diverse customers' demands.
At the same time, vertical platforms can bring more value to customers by satisfying their unique needs and requirements. Consider, for example, such vertical marketplaces as Houzz, AngelList, or LiquidSpace. The narrow-focused platforms became a trend affecting the e-marketplace domain.
Recommended reading: Horizontal vs Vertical Marketplace: Examples and Benefits of Each Type
It is worth noting that you can extend your offering by adding new products and services at any moment.
For example, at Codica we created a vertical marketplace PlanMyKids intended for booking activities for children.
The story behind this project is very interesting. Being a parent himself, our client realized how difficult it is for busy parents to plan activities for their children. To make things easier, he came up with an idea of a digital service that would connect parents to program providers. We helped to bring his idea to life and succeeded in creating this vertical service marketplace. Check the video below to see how it works.
Related reading: How to Create an Online Service Marketplace: Ultimate Guide
4. Artificial intelligence
It is a common practice for companies to turn to artificial intelligence to streamline their workflow and processes. The e-commerce domain did not stay on the sidelines and quickly followed the lead. Thus, AI implementation became a prominent online marketplace trend.
The main contribution to online sales is made by the generations of zoomers (1997-2021) and millennials (1981-1996), from 18 to 34 years old. Basically, they prefer to communicate using instant messengers, avoiding phone calls. This should be taken into account, and it is better to use AI online marketplace trends as communication channels, for example, messengers and chatbots.
You may also like: 5 Main Online Marketplace Features to Make Buyers Happy
Nowadays, chatbots are highly demanded in the e-commerce domain. Implementing these trends in the marketplace allows for transforming the customer experience. In its simplest form, chatbots scan the keywords in a customer's query and offer pre-packaged answers.
Meanwhile, sophisticated chatbots are capable of creating more complex conversations and replies.
The table below shows the potential benefits of chatbots that have become the latest trend in the marketplace domain.
Source: Aimultiple.com
AI implementation in digital commerce is not limited to chatbots only. Artificial intelligence allows the creation of personalized recommendations based on the customer's purchase history.
Finally, smart AI algorithms help analyze consumers' behavior and identify the best sales channels.
Below you can see the statistics of revenue from the artificial intelligence software market. The numbers have gradually increased since 2018 and are expected to reach more than $100 bln in 2025. So, AI is one of the top marketplace trends.
Source: statista.com
Therefore, there is no doubt that artificial intelligence as a marketplace trend will continue its rise.
Interestingly, the McKinsey Global Institute forecasts that at least one type of AI technology will have been implemented by about 70% of companies by 2030.
Further reading: How Much Does It Cost to Build an Online Marketplace in 2023?
5. New payment options
Online shopping can become a hassle for customers using an unfamiliar payment option. Hence, your task is to provide consumers with all popular payment gateways. Allow them to pay for your products and services the way they used to. This digital commerce tactic will help you improve the retention rate and get better chances of repeat purchases.
So what payment options should be added to your digital marketplace apart from traditional credit and debit cards? First of all, your online marketplace should accept payment services such as Google Pay, Apple Pay, and PayPal. High demand for these payment gateways is a noticeable marketplace trend.
Source: statista.com
Why is implementing eWallet systems so important?
When you aim to create a marketplace website to generate sales, you need to understand that the checkout process is the final stage of the user journey. It defines whether buyers will make a purchase, thus boosting your conversions or not. At this stage, they have already passed multiple steps, from brand awareness, product search, reviews analysis, and communication with a seller to finally deciding on buying an item.
However, if the checkout procedure provides troubles like taking much time or requiring to fill in long forms, it may still force the consumer to quit this process. It means that you can lose a potential customer.
Therefore, implementing e-wallets trends in the marketplace will definitely accelerate the purchasing process and buying experience of your customers, increasing your conversion rate.
You can also study payment methods policies applied by e-commerce leaders. Take a look at the payment gateways that are available for online marketplaces. For example, eBay allows users to pay for the items they buy through Adyen, Google Pay, or Apple Pay.
Blockchain
It would be a wise idea to start accepting cryptocurrencies as a payment method. What benefits will it bring to the marketplace industry? The key advantages include low transaction fees and zero reverse transactions.
Moreover, Blockchain technology makes digital payments even more secure and almost eliminates any risks connected to fund loss.
For example, Newegg, a huge e-commerce player specializing in electronics, has implemented Blockchain technology and accepts Bitcoin as payment now.
Furthermore, in 2021, Newegg accepted the new cryptocurrency Dogecoin as the official payment method. Notably, the cost of the meme coin has risen many times over one year. It happened due to the general trend of cryptocurrencies in the online marketplace industry around the past year.
Cryptocurrencies solve issues with traditional payment methods. For example, they don't involve intermediary banks to perform financial operations. Thus, cryptocurrencies lead to more flexibility in processing payments. Security is also an advantage of such payments as they are created with Blockchain technology.
Codica's experience in payment system integration
When we create marketplaces, our team follows the best practices in custom development. That is why we implement payment integrations facilitating online payments. Thus, digital marketplace users get the most from online shopping.
One of the best payment systems for marketplaces is Stripe. It ensures prompt and secure payments. For instance, we included it in a custom e-commerce solution that handles many daily payments. Smooth payment processing is vital as the marketplace has two portals for B2C and C2C. These sections operate locally and worldwide. Check the video below to see how the website works.
This marketplace also includes a convenient sign-up form, an admin panel, and an easy-to-use menu. The integrated calendar planner helps customers to see available dates on the seller's page.
Besides that, the marketplace website also provides a personalized experience on the local part. Thanks to Google Maps integration, users can search for nearby services depending on their location.
Related reading: NFT Marketplace Development: What Is It and How Much Does It Cost?
6. Omnichannel selling
Did you know that 53% of retailers are adopting tools that assist them to sell through various channels? This data makes omnichannel selling one of the interesting two-sided marketplace trends for 2023 and further.
Still, the question arises of what this term actually means. How is it different from a multichannel strategy?
In brief, the omnichannel approach means selling products and services across different channels. The key feature of this trend in the electronic marketplace industry is the close connection between all channels. This way, businesses make sure that customers will get a seamless experience across all platforms.
If omnichannel is a terra incognita for you, follow the tips below to put this enterprise marketplace trend to your advantage.
Learn more about your customers. Research their interests, demographics, pain points, and needs. This way, you can choose the right moment to engage your audience. Also, you will find out when to encourage customers to make the purchase decision.

Choose the right channels. Find out which channels are especially popular among your consumers. The channels may include a marketplace website, mobile app, ads, and social media.

Define a clear goal for each channel. For example, use one channel for interacting with your consumers, and another one - for publishing news updates.

Keep on testing your marketing strategy. Track and measure your business results to make sure you get the most out of your omnichannel strategy.
You may also like: 6 Multivendor Marketplace Features for Sellers
7. Shoppable video ads on social media
Social media have long become a useful marketing tool and for online shopping as well. Business accounts on Instagram, Facebook, or Pinterest are a dime a dozen. Here are some trends from the world of socials:
YouTube offers livestream shopping with promising stats;

TikTok is testing the function of adding product links to profiles and videos (shoppable videos). Furthermore, it is launching an integration with Shopify for direct sales;

Facebook and Instagram also suggest options for real-time shopping on live streams. They also suggest the store feature allowing you to shop right on the platform.
As you can see, nowadays, brands are forced to think about new creative ways of using social media to engage with their audience. Hence, shoppable videos have become an innovative online marketplace trend you may adopt.
Recommended reading: SaaS Marketing Strategy: How to Promote a SaaS Startup
The marketing strategy works the following way. Embedded links in such videos allow customers to click and purchase featured items right on the spot. Viewers do not even need to leave the video or a digital platform they are currently visiting.
The basic idea behind this marketplace trend is to meet the immediate purchasing interest that content evokes. Traditional content formats are not capable of doing such things. For this reason, they fall behind this new type of video. Meanwhile, the shoppable video may become the future of marketplaces.
Below you can see a shoppable video ad presented by WIREWAX platform for IKEA. This interactive video helps customers pick the perfect pieces for their spaces. Throughout the video, IKEA items will be clickable, allowing customers to select them to find out the item's details. And beyond that, customers can make purchases straight away.
You may also like: How to Build a Website Like Airbnb: Step-by-Step Guide
8. Buy-online-pick-up-in-store (BOPIS)
This approach to e-commerce trade has become popular during the COVID-19 pandemic. Buy-online-pick-up-in-store (BOPIS) allows one to buy products online and pick them up in physical locations. Customers understood the convenience of this way of shopping. So, the trend stays in the future for online marketplaces.
According to the research, the BOPIS market worldwide is expected to hit $703.18 billion by 2027. The compound annual growth rate (CAGR) is expected to be 19.3% up to 2027.
BOPIS is promising because customers have convenient online shopping and product pickup. Thus, this retail strategy creates a favorable experience that inspires customers to return to the store.
There are several factors why BOPIS is so helpful:
Absence of shipping charges;
Quick service when handing off products in the store;
In-stock insurance;
Prompt resolution of delivery errors.
The stores that introduced this model include Home Depot, Zara, Walmart, Macy's, and Target.
Walmart even created the Store Assist apps to make things even easier. The app steers the processing of orders for store employees and enhances customer experience. Thus, handing off products is more accurate and faster, minimizing wait times.
9. Sustainability practices
Green consumerism no longer seems just a passing marketplace trend. In fact, these days, more and more customers value products produced in an eco-friendly way. Thus, 65% of customers express their wish to buy from brands that follow sustainability practices. These figures indicate the need for brands to adopt this online marketplace trend to dominate the market in the upcoming years.
Below you can see the key steps to take to follow this latest trend in the marketplace and make your brand more eco-friendly.
Use biodegradable packaging materials. Replace foam and plastic with paper and cardboard.

Track shipping errors and lost items. Enhance the power of data to improve profitability and sustainability.

Reduce energy waste in your business infrastructure. Turn off the appliance when you do not use it. Invest in low-energy lighting to minimize energy waste.

Introduce paid returns. Customers tend to order more products they need if they can return unwanted items for free. So, if you introduce paid returns, shoppers will think twice before ordering extra items.

Give up destroying returned goods. Consider reselling them instead.

Avoid using big packages for small products. Make sure that you ship products in appropriately sized boxes.
To sum up on this trend, we can say that millennials feel responsible for the planet and expect the same from brands. Therefore, more and more buyers prefer products made of environmentally friendly materials, so they choose eco-packaging. They are also impressed by brands with rational use of nature and recycling technologies.
In a nutshell, it is worth paying attention to this one of the online marketplace trends.
Related reading: How to Build an Online Marketplace: 17 Tips for Aspiring Entrepreneurs
10. Personalization
We have already mentioned the active usage of AI as a significant marketplace trend. Still, we want to show how artificial intelligence can help create a personalized experience. Why is it so important within marketplace trends? The thing is that consumers tend to value products that are tailored to their specific needs.
Recent findings of Smarter HQ are working illustrations of this online marketplace trend. They show that 72% of customers will only collaborate with brands offering personalized messaging.
Do not miss the opportunity to use AI online marketplace technology to collect information about your visitors. This way, you will be able to adjust your website to their particular needs and wants during online shopping. As a result, you get better chances to grow your revenue and reduce the bounce rate up to 45%.
Vans Customs shows a great way to provide users with a personalized experience. On their website, buyers can brighten ordinary shoes with their favorite art or photo. There is hardly a customer who will not want to get a product with a unique and impressive design.
Therefore, personalization is at the top of important e-commerce marketplace trends.
Further reading: 14 Top Ways to Attract Sellers and Buyers to Your P2P Marketplace
11. Voice commerce and smart home assistants
Today people consider voice assistant devices such as Amazon Echo with Alexa great helpers. This statement can be easily backed up by specific figures. Thus, the latest study shows that 75% of U.S households will be equipped with smart speakers by 2025.
The increasing popularity of Siri, Google Assistant, and Alexa generated growth in voice commerce. The estimated voice commerce value will reach $19.4 billion in 2023.
These figures give us the right to consider this form of software application the future of marketplaces.
You will need to optimize your e-commerce platform for voice search to stay in the game. The tips below will show how to adapt your platform to this marketplace economy trend.
You may also like: C2C Marketplace Development: Why Invest in Your Own Platform
Create a FAQ page to offer users valuable information
Always add main keywords in answers to frequently asked questions. This way, you increase your chances of appearing in voice search results.
Complete your local listing
When people conduct a voice search, they expect to find a local business that can satisfy their particular needs. If you want consumers to choose your company, ensure your local listing is complete. Check the key information such as name, physical address, email, and phone number.
Optimize your content for various smart speakers
Each voice search assistant performs differently from its counterpart. For example, Alexa pulls information from Bing. Therefore, you need to optimize your business for Bing Places. Optimize your e-commerce platform for each speaker individually. Thus, you will prepare your website for this trend in the marketplace industry.
Want to build an online marketplace?
Our team has years of experience and is eager to help you.
Let's discuss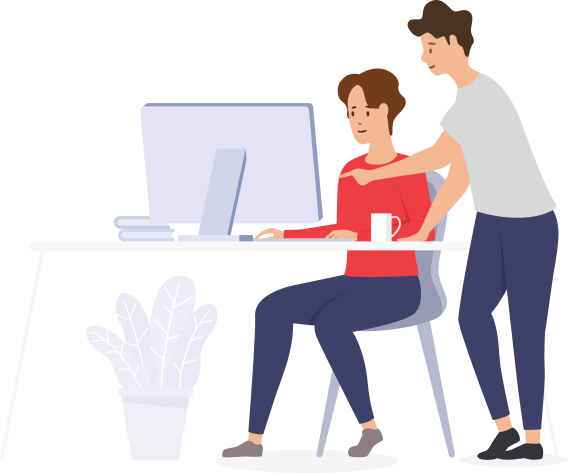 12. Augmented reality and virtual reality
Augmented reality is a tool that joins real-world spaces with computer-generated additions. This technology is popular in online marketplaces as it gives an enhanced experience with trying products. Be it clothes or furniture, customers would make more informed decisions with AR.
According to the survey, 82% of brands that use AR state that it helps them improve customer experience. Also, 79% of customers say they enjoyed the AR experience and placing items in the space before buying them. Thus, AR is one of the top marketplace trends.
As technology has evolved, there are several types of AR today.
Marker-based AR (image recognition or recognition-based augmented reality). In this case, an object, which is a marker, is recognized with a camera. When the device using AR detects the marker, the app puts a 3D version instead of the marker. The user can examine that 3D model from many points and thoroughly.
Markerless AR. You do not need a real-world object to trigger augmented reality. You can locate an item wherever you want. After that, you can rotate and move it to examine it better. For example, Shopify took the most of this technological advancement to offer products. You can choose products and try how they fit the environment before purchasing.
Location-based AR. Such AR apps show digital content based on certain geographical locations. For example, that's how PockemonGo works.
Projection-based AR. This type of AR projects synthetic light on real-world surfaces and sometimes allows us to interact with it. AR takes the form of holograms in this case.
Online marketplaces use AR to show product size and fit in the environment, helping customers to try products before buying. And this is for a reason. As the statistics below show, people of different generations will try new items with augmented reality.
Source: statista.com
As for now, the AR software market has reached $10.5 billion. It is expected that the extended reality market will grow considerably in the near future.
A similar method of creating an excellent user experience is virtual reality (VR). The difference between AR and VR is that the first offers a blend of the real world and digital experience. Meanwhile, VR is diving into a simulated environment.
As for now, VR is mostly used for virtual shopping tours. For example, Bloomingdale's created a virtual store giving an engaging experience for shoppers. The brand turned to VR due to the opportunities it opens for customers. They can try clothes and shoes and also have an additional entertaining experience.
Final thoughts
The future of digital commerce never looked more promising. The latest online marketplace trends discussed above offer businesses multiple opportunities. However, it would be a big mistake to try and keep up with all of them. It's up to you to decide which marketplace trends in 2023 are important for your business and focus on them.
If you need assistance from a reliable online marketplace development company, feel free to contact us. We have delivered many successful e-commerce projects, and we will be happy to create one for you.