Updated
27 Apr 2022
24 min
When the AliExpress platform started it offered to sell and buy online for business entities. Later it expanded its services. Now it's a large online commerce portal connecting China and the world. So, AliExpress' experience serves as an inspiring story for companies looking for similar success.
Why is this platform so popular? The answer is quite simple: people like to shop fast and in an easy way. That's why online shopping is a profitable way to make money. At the same time, the market is saturated so much that today it's not enough to build a marketplace. Therefore, your website like AliExpress should be a game-changer to prosper in the world of e-commerce business.
This article reveals vital aspects of how AliExpress succeeded and how to create a website like AliExpress.
Overview of AliExpress
Brief history of the platform
Aliexpress is a B2C marketplace founded in 2010 and owned by Alibaba Group. Alibaba is based in the Chinese city of Hangzhou and focused on major wholesale market players and transactions. Meanwhile, Aliexpress was created with the idea to support small Chinese businesses. The founders aimed to let Chinese retailers' business go worldwide. This is the key difference between Alibaba and AliExpress.
Below you can see the comparison of the two companies and how they differ.
Difference between Alibaba and AliExpress
Company
Alibaba
AliExpress
Year of foundation
1999
2010
Business
Business
Business to Business (B2B) and

Business to Customers (B2C)

Monetization model
Membership fees, advertisements
Membership fees, commission on transactions, advertisements
Minimum amount per order
Sets a minimum order quantity and requirements on the product amount that a buyer can make
No fixed amount of products per order
Pricing
Prices may vary for the same product
Prices are set with no option for change
Checking the product quality
A buyer can check the quality of products before purchasing
A buyer can check the quality of products after receipt
Custom production
Suppliers may offer customized versions of products
Suppliers offer standard versions of products
Shipping service
Agreed between seller and buyer
Arranged by seller
Payments
Bank transfers, letters of credit, Western Union
Alipay in partnership with financial institutions, including MasterCard, Visa, and PayPal
Before starting with Alibaba, Jack Ma, its founder, worked as an English teacher and translator. During his business trip to the US, he searched on the computer for facts about China and found that no results would pop up in the browser. So, that's how he came up with the idea to create a platform that would connect China and the world.
Jack Ma borrowed $60,000 from 17 friends, his colleagues, and former students, to establish Alibaba. Today, the enterprise group offers services in technology, finance, entertainment, and other industries. In 2014, the company reached a record IPO of $25 billion, which was more than Google, Twitter, and Facebook combined.
Alibaba brought the Chinese Single's day to new heights. Youth originally thought of the occasion to celebrate being single on November 11. Alibaba Group offered special prices and promotions on this day to grow sales. Eventually, the enterprise received over $84 billion from their shopping festival in 2021.
AliExpress' business model does not imply selling products directly. The marketplace acts as an intermediary between merchants and customers for simple and secure service. The portal is available in 18 languages. It covers 220 countries and regions. More than 150 million buyers shop on the platform.
How does AliExpress work?
As we already mentioned, the platform is a multi-vendor B2C (business to consumer) marketplace, connecting buyers and sellers.
Therefore, the custom enterprise software solution helps deliver products from Chinese retail sellers to shoppers in many countries. It uses a trade system that handles complex operations to provide customers with high-level service.
Let's see how the portal works and what are its pros and cons.
Pros of the platform
The website facilitates user experience, both for buyers and sellers. Consumers benefit from an opportunity to get cheap products fast. Vendors enjoy going through the simple process of selling items.
For example, the website helps novice dropshippers to start an online business easily. Usually, entrepreneurs need to submit many documents to start a business. This process is time-consuming and challenging. So, AliExpress simplified registration for new sellers. They only need to sign up on the retail platform.
In addition to dropshipping, the enterprise suggests an affiliate program. It is aimed at boosting the platform's sales. Vendors can join the affiliate program directly on the website, and after that the marketplace provides sellers with a unique link to particular products on AliExpress. Thus, the affiliate seller earns an extra commission of up to $50 at each sale.
Other pros of the AliExpress platform are as follows:
Access in different languages;
Linking sellers and shoppers from many countries;
Moderate commissions and fees;
Various options for online payments;
Direct delivery of goods.
Cons of the platform
On the other hand, the enterprise has its cons:
There is no option to combine products in one order when buying from different vendors;
You can check the quality of a parcel only after delivery;
Sometimes it isn't easy to return products.
Despite these drawbacks, the retail service platform is supportive for consumers. In case of a misunderstanding, a seller would ship another product. Thus, the sellers do their best to avoid disputes with buyers.
How does AliExpress make money?
As you plan to run a website like Alibaba or AliExpress, you need to decide how your portal will make money. The monetization strategy is important as it helps you to keep users loyal to your business.
Though AliExpress suggests registration and dropshipping services for free, it takes other fees.
The company charges a commission from 5% to 8% for each seller's transaction.
Also, it raises $1500 for registration or changing a shop on the website.
Moreover, the business makes around $7 million a year from advertisements.
For sellers looking to promote their online store, there is one more idea. AliExpress offers discounts of up to 50% yearly if a vendor reaches a certain level of sales. When you build a website like Alibaba or AliExpress, such an approach helps merchants grow sales on your platform. Thus, your business expands.
Success factors of the Chinese B2C marketplace
The enterprise has found the way where giants failed to reach. The critical aspect that brought success to AliExpress was Jack Ma's knowledge of China's peculiarities. He understood the potential of the idea to deliver cheap products fast around this vast country.
Local merchants' and buyers' needs
Such companies as eBay and Amazon failed to enter the Chinese market because of missing crucial points. For example, many people in China are retailers and manufacturers and they need their operations to move fast.
Alibaba Group understood that and included relevant services in their business. Now 80% of the market in China is controlled by the Alibaba Group and JD.com, Alibaba's main competitor.
Local payment system
E-commerce companies tried to enter China by offering payments with PayPal. This tool was not convenient in the Chinese market due to China's currency conversion and governmental restrictions. There is also a demand in China for paying with online wallets.
So, Alibaba Group presented a unique payment method. The holding created Alipay, which is safe and straightforward to use in China. The system uses the escrow method, meaning that a seller receives money only after a shopper confirms the product quality.
AliExpress mobile apps
Smartphone usage statistics shows that people look up the products with these devices 4.2x more compared to using the websites. The company created their smartphone apps for iOS and Android allowing users to buy and manage their account on the mobile device. The apps offer selecting products and making orders just like on the AliExpress website.
Logistics
A crucial aspect of a successful e-commerce website is smooth logistics with the delivery of products in the shortest time. So, AliExpress partnered with the Cainiao network that offers logistics services. Currently, it takes 10-12 days to deliver products to Spain, France, and Brazil, and 5 days to South Korea.
Along with that, the enterprise partnered with many logistics companies. So, this B2C portal saved on investing in partners' expensive fleet for shipping.
Workflow automation
AliExpress uses 800 robots in the warehouse, which speeds up the human work efficiency twice. Also, the enterprise operates automated sorting centers and 20,000 self-pickup centers. This way the company shortens the cross-border delivery time.
Further reading: 10 Things to Know Before Building a B2C Marketplace Platform
The benefits of creating a store similar to AliExpress
Alibaba group increased the quarterly revenue at the end of 2021 by 33%. This profit came mainly from the retail commerce platforms, including AliExpress. Let's see what helps this business thrive and what benefits a similar website could bring you.
No costs for keeping stock. The enterprise acts as an intermediary between buyers and sellers, providing safe and quick goods turnover. You don't need an inventory of goods. So, a website similar to AliExpress saves you costs that could be needed for keeping warehouses.

Market expansion. The e-commerce market grows by 20% annually, with wide target audience coverage. It is expected to be worth 1.4 trillion by 2025. So, making a website like AliExpress is quite a profitable venture.

Possibility for quick growth. If you create favorable conditions for buyers and sellers on your portal, they will attract more adopters. AliExpress provided an environment where all sides win.

Wide audience coverage. AliExpress embraces many merchants and consumers. So, a platform similar to AliExpress gives you extensive coverage of the target audience. The wider audience brings higher turnover on your website. Thus, your revenue grows.

Easy-to-analyze data. You get ongoing access to the information on users' behavior. Analyzing it allows you to improve the experience for sellers and consumers. This leads to greater traffic on your website and better visibility of your business on the web.
Do you have an idea for an e-commerce store?
We will help you to create a profitable marketplace.
Let's talk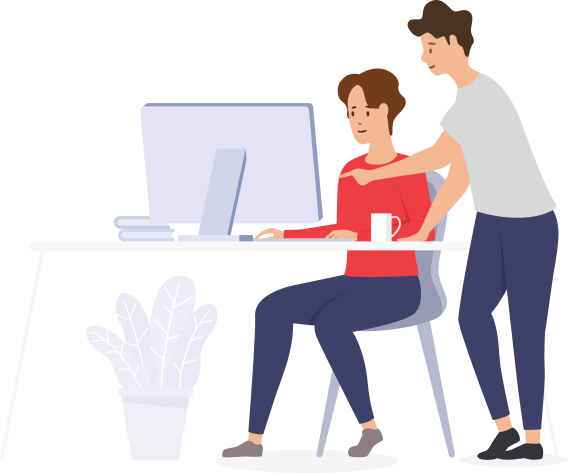 Core features for an e-commerce platform like AliExpress
B2B and B2C marketplaces have similar functionality. They include registration forms, payment methods, ratings, reviews, and recommendations on the goods. This helps shoppers be confident about their purchase, makes them happy with sales, and helps your portal grow.
Let's see what features you need to create a website like AliExpress.
Account creation and login
This feature enables new adopters to register on your AliExpress clone. The registration process must be simple and fast. It encourages people to walk through your e-commerce website and make purchases.
Any user can be a shopper and vendor. The retail platform offers separate environments for both roles. At the same time, it allows easy switching between them without changing an account.
If you are a buyer, you can register your email and start purchases on the portal. If you are a vendor, you need to fill in the legal details when creating an account. These include the company's tax country, registration number, company ID number, and company's legal representative data.
The required details may vary depending on the country of the seller's residence. Also, the portal requires creating an account on Alipay. The verification process lasts up to two days.
Further reading: 5 Main Online Marketplace Features to Make Buyers Happy
Product listings
Product prices at AliExpress must include VAT. A vendor indicates the description, categories, and photos when posting a product listing. It takes the platform 72 hours to approve a new listing. This time may be expanded if there are holidays or weekends.
Also, there is a verification process for a merchant. It is applied on the Alibaba website. Before starting with the portal, a seller should provide 'qualified contacts' with whom a seller was in touch regularly. Such contacts include a verified seller or suppliers with over 2 years of membership on Alibaba. Only after that sellers can post listings. You can consider introducing a similar method to your online marketplace.
The listings should comply with AliExpress' requirements. Typically product listings on an AliExpress clone may include the description, categories, photos, packaging details, shipment conditions, and delivery time.
Search
Online marketplaces usually offer search by products. The AliExpress platform also suggests using keywords and photos for search. So, shoppers can upload images to find the desired product. This is helpful when a user does not know the name of a product or is not sure how to explain, or wants to find the product quickly.
Adding filters and sorting features facilitates the search for a user if there are many options or products in the same category. Such solutions enhance customers' journey on your website like AliExpress.
For example, Codica created search filters for an online auto marketplace to help users find a car by price, make, city, and condition. Check the platform flow in the video below.
Checkout and payments
The convenient and quick checkout attracts users. Your store similar to AliExpress might suggest your users checkout without registration. At the same time, it is helpful that your portal shows how customers will benefit from becoming portal members.
AliExpress supports many payment methods, including the support of Visa, MasterCard, Western Union, Alipay Balance, and other online payment systems. These solutions allow you to create and make payments by processing many invoices fast. Quick, easy, and secure payment methods on your multi-vendor marketplace are vital on a website like AliExpress.
Also, the AliExpress clone should clarify the shipment options and costs during the checkout process. It helps users to be confident about the payment amount. In this way, you improve your users' experience.
Most suppliers offer free shipping for their products. But this means that a shopper might wait for a month or more for the order to arrive. So, AliExpress suggests shoppers tracking numbers and faster shipping for an extra fee.
AliExpress asks consumers to add their shipping address and payment method during the first checkout. The buyer will be able to use these details when making future orders.
Order management
This option is important both for buyers and sellers. The features include tracking the order status and sending refund requests. If AliExpress has not processed an order, a shopper can cancel the order. On the other hand, if AliExpress has processed the order, a buyer can send a cancellation request to the vendor.
The seller also should note the status 'awaiting payment'. It may appear if the shopper has problems with payment processing. In this case, a consumer and a merchant may negotiate the price or contact each other on cancellation.
Messaging
Websites like AliExpress use messaging systems to facilitate communication between merchants and consumers. Messaging helps both sides to clarify the details of each transaction. It allows quickly asking and replying to the questions.
Typically, sites like AliExpress use built-in chats. In case of disputes, buyers and sellers can use message threads as proof.
Ratings and reviews
A website like AliExpress should include the option for getting feedback from customers. These points help shoppers check if the vendor from whom they purchase is reliable. The more reliable you present your site, the more eagerly users will sell and buy on it. There are several ways to check if a merchant is trustworthy on AliExpress:
Vendor's membership. The longer the membership, the more reliable the vendor is. A shop with a membership of over 3 years on the portal may appear in the buyer's filter list.

Sales. The more sales, the more trustworthy the seller is.

Credits. AliExpress processes customers' ratings and reviews in real-time. Each positive review adds a credit to the seller.
When building a website similar to AliExpress, you need to consider that there are many ways to create fraudulent reviews. For example, reviews are sent from one user or the same IP address.
Support and disputes
When creating a website like Alibaba or AliExpress, it is vital to provide technical support and other help for your customers. It is helpful to create a chat system or email form through which clients can contact the support team.
Also, a buyer should be able to raise a dispute if a product does not comply with the description on the retail portal. Create a convenient form for the consumers, which they will send to a contact team responsible for resolving disputes. This way your AliExpress clone website improves user experience.
Monetization
Show your adopters the processes of writing off fees clearly in your B2C marketplace. For example, if you use a commission-based model, vendors should see the percentage that will be added or deducted from the product price. If you create premium features for an additional price, explain to the users what benefits they gain with such services.
You may also like: Top Multi-Vendor Marketplace Features for Sellers
How to create a website like AliExpress?
There are certain aspects that are crucial when employing thriving online marketplace development services:
Your e-commerce website should bring new value. A mere AliExpress copy is unlikely to bring you profit. There should be something special about your project. Find a niche or approach to connecting buyers and sellers. You can also provide them with unique services or features.

Check if your B2C marketplace idea is viable. When you discover your future platform's unique value, check if its services are in demand. So, your business will prosper.

Learn about your potential users. Discover what products your suppliers and buyers will need. Describe how they will use your site.

Consider legal aspects. You might need to submit particular documents and obtain approvals when you make a website like AliExpress. Also, think about the legal background of your vendors and shoppers.

Choose a monetization strategy. Select the pricing model that brings profit to your marketplace like AliExpress. You can choose a freemium or commission-based model for your services or win from ads and sponsorships.

Attract sellers and buyers. Both sides are important for your B2C marketplace. So, show the value of such platforms to the hardest of them. Use social networks or partner with prominent people to promote your retail platform. When the hardest side's activity is on the rise, the other party will be eager to join your AliExpress clone website, too.
Technical implementation of an online multi-vendor marketplace
How will you start your retail platform? We recommend that you begin with a minimum viable product (MVP). It is a workable version of your product that you can roll out on the market.
An MVP development service includes core features needed for your customers to use it. So, the development process takes less time and resources. Early adopters of your MVP will give you feedback, and you'll know what improvements your project needs.
When you build your e-commerce website like AliExpress, you need to choose the right development approach. The two main options include making it yourself or hiring a dedicated development team. Let's take a closer look at these methods.
Off-the-shelf-development
Pros:
Using a pre-built template makes it cheaper and faster to create a website unless you don't need more features;
Most providers take care of the infrastructure for an off-the-shelf website. So, you don't need programming skills for website development.
Cons:
Some aspects require programming skills (server, plugins);
It may be challenging to scale your website in the future;
The provider may change their rules, which affects your website.
Custom development
Pros:
Portal's flexibility for developing, redesigning, and integrating with third-party services;
An option of creating unique solutions;
Code ownership;
Using the most robust tech stack for creating custom features;
Ability to include features and make upgrades when expanding services on your portal;
Top security.
Cons:
More costly development process in the beginning that pays itself in the long run;
Requires a reliable programming partner for development of your project.
Tech stack to build a custom B2C marketplace
AliExpress' tech stack includes robust tools that proved efficient over time. They are as follows:
Programming language: Java
HTTP server technologies: Nginx, Squid, HAProxy
Server library: Spring
Databases: Redis, LevelDB, Hadoop, MySQL, Oracle Database, Apache Hbase
Server software: Apache Zookeeper
Operating systems: Linux, Red Hat Linux
When you create your AliExpress clone website, you might adjust the technologies for development. They should suit the objectives and architecture of your project.
At Codica, we created many marketplaces of different complexity. The tech stack that Codica uses to build B2C marketplaces includes the following:
Front-end: JavaScript, React, Vue.js, Gatsby;
Back-end: Ruby, Ruby on Rails, Strapi;
DevOps: Linux, Ansible, Docker;
Databases: PostgreSQL, My SQL, MongoDB, Redis;
Infrastructure: AWS, Heroku, Digital Ocean;
Integrations: Strype, Google Analytics, PayPal, Mollie, MailChimp, HubSpot.
For example, we used such technologies to develop an online marketplace for boats Trade A Boat. We created a progressive web application for the platform to increase performance on mobile devices. Thanks to third-party integrations, the Trade A Boat website receives ads from all over Australia. This upgrade improved the website conversions and improved the business indicators.
The cost of a website similar to AliExpress
We have prepared an approximate calculation for developing an ecommerce marketplace software solution like AliExpress. To ensure that you are prepared for launching it, you should keep in mind that the development price depends on the following aspects:
The complexity of your marketplace;
The development approach you choose, be it a pre-built or a custom solution;
The location of your development partner and their rates for marketplace development service
How much does it cost to build a marketplace like AliExpress?
Features
Time, hours
Cost, $50/hour
Design
UX Development
64 hours
$3,200
UI Development
96 hours
$4,800
Architecture
Project setup
16 hours
$800
DB structure
32 hours
$1,600
Integrations
Payment (Stripe or PayPal)
64 hours
$3,200
Shipment (Shippo)
32 hours
$1,600
Main functionality
Authorization and Security
72 hours
$3,600
User Profiles
42 hours
$2,100
Home page
84 hours
$4,200
Search and filters
96 hours
$4,800
Product page
42 hours
$2,100
Reviews ratings
48 hours
$2,400
Shopping cart
64 hours
$3,200
Notifications
32 hours
$1,600
Buyer panel
120 hours
$6,000
Vendor panel
230 hours
$11,500
Admin panel
192 hours
$9,600

Wishlist

32 hours
$1,600
Non development activity
Project management
64 hours
$3,200
Quality assurance
96 hours
$4,800
Code review
48 hours
$2,400
Total
1566 hours
$78,300
So, the approximate cost of an e-commerce platform like AliExpress is $78,300. AliExpress architecture includes many pages and various features. If you plan to create a website with a similar design, your technical partner will give you a precise quote.
You may also like: How Much Does It Cost to Build a Marketplace Website
Why turn to Codica to build a multi-vendor marketplace
At Codica, we know that you need more than an affordable marketplace. It would help if you had a solution that your users enjoy. So, you need to ensure its efficient work and intuitive design. Also, your platform should be optimized for the standards of search engines to be visible on the web.
Our team has vast experience in building custom marketplaces. So, we know how to deliver a solution that will help your business grow. We analyze your users' expectations and demand for your website during the product discovery phase. Also, our team thinks over the UX and UI and chooses reliable technologies to ensure the proper work of your portal.
Here's how we built an online auto marketplace. It embraces 90+ local vehicle marketplaces in Africa. The platform supports 15 languages and performs operations with 72 local currencies.
We understand the need for smooth portal use with a slow Internet connection. So, we created the portal as a PWA (progressive web app). Moreover, the platform works efficiently with high traffic loads.
Check our portfolio for more examples of marketplaces and other solutions that we have built at Codica.
A great marketplace comes from knowledge of people's needs
What were the key success points of AliExpress? Mostly, it's knowing consumers' needs. AliExpress entered the Chinese market and expanded worldwide. Many people value the platform because it's fast and cheap. Also, their team cares about consumers. The enterprise is willing to support buyers and sellers in payments, shipping, and returning products.
If you want to build a website like AliExpress, find out what else people need. Thanks to unique features or services your website will grow.
If you have an idea for a multi-vendor marketplace development solution and want to check its viability, contact us. Our team of experts is eager to help you with creating your stunning, efficient, and profitable marketplace.