Updated
16 Aug 2022
18 min
It is expected that 95% of purchases will be made via e-commerce by 2040. With customers increasingly relying on e-shopping, C2C marketplace websites offer near-endless opportunities. Some players rode the wave and came out on top.
For instance, Amazon's third-quarter revenue in 2022 came ahead of analysts' forecasts, reaching $121.2 billion. That is more than we saw a year ago and even predicted by analysts.
Usually, the C2C model is discussed from the customers' perspective. But what makes it appealing to a marketplace founder? In this article, we will bring five reasons why it is worth for entrepreneurs to launch a C2C marketplace. And whereas the future for C2C is bright, there are several pitfalls to be discussed.
Types of marketplaces: what is a C2C platform?
A marketplace platform is often the first thought that comes to mind when a user is looking to buy something on the web.
Let's first deal with the concept of the marketplace platform. It is a digital trading platform where various third parties provide their services or products. A consumer-to-consumer (C2C) marketplace platform is a business model where customers can trade with each other.
A C2C marketplace serves as an intermediary, matching one client to another. No middlemen involved. The important thing is that one person can be a consumer, but they can later switch their role and start selling products.
The C2C marketplace platform is distinguished by the equality of participants in the role of individuals. If one of the parties wishes to purchase any product or service, it agrees on favorable terms with the other. So the need of both the seller and the shopper is fully satisfied.
eBay, with 159 million active users, is a popular C2C platform. A leading carpooling marketplace, BlaBlaCar is the same marketplace type. A popular selling platform of Alibaba, Taobao, also concerns the C2C sector. These marketplaces' success has inspired many entrepreneurs to start their C2C marketplace businesses.
Now, let's briefly consider the major differences between C2C and other types of marketplace business models. There are also B2C (business-to-consumer) and B2B (business-to-business) models. Examples of the B2B business model are the Alibaba.com website and Walmart. The B2C business model is the Uber marketplace platform.
The table below helps you get an image of the aims of C2C, B2C, and B2B marketplace types.
Comparison of the goals of different marketplace types
C2C
B2C
B2B
Offer goods or services
Offer multiple goods or services
Provide a solution for business
Present own UVP (unique value preposition)
Provide the brands
Trade to large players
Build a community of consumers
Make conditions for competition
Be the first in your own domain
To figure out how to start a C2C marketplace, define the type of your future platform: vertical or horizontal. Which will suit you best? Let's find out by comparing marketplace types.
Read also: How to Create an Online Service Marketplace: Ultimate Guide
So, what is the difference between horizontal and vertical marketplace software models?
Vertical marketplace platform
This type of the marketplace platform covers a particular category of products or services. Therefore, such websites have a narrow client base.
A vertical model enables you to provide users with a more personalized customer experience than the horizontal one. Why? When you have a limited audience, it is simpler to satisfy their needs. Also, you have a chance to be a leading C2C marketplace platform in your domain. Yet, by choosing the vertical marketplace type, you can't compete with other industries.
The Etsy website is probably the most popular example that follows the vertical type. Focusing on a niche of handmade and vintage items, the company provides an easy-to-use platform for craftsmen.
One more example is Preply, a marketplace platform for online tutoring. You can find tutors for a range of subjects, most of which are languages.
Horizontal marketplace platform
Unlike vertical model, this marketplace type offers a broad spectrum of multiple products. It's not specialized in a particular category but includes widely used and salable items.
This type of marketplace platform is attractive to a mainstream audience. However, this model can't be leading in a specific domain.
The classic example is Amazon which maintains its position to be on the top of the largest online selling companies.
Related reading: Horizontal vs Vertical Marketplace: Examples & Benefits of Each Type
Must-have functionality for the C2C marketplace platform
Let's find out how to build a consumer-to-consumer online platform by delivering a first-rate experience. To begin with, let's define common challenges that C2C marketplace faces. Keep them in mind when defining the features of your future platform.
C2C platform is only an intermediary and is not liable for product quality.
Systematic feedback is required. Before clicking the "Buy" button, 92% of users check the reviews.
Order cancellation and product return are issues your customers may face.
Want to build of a marketplace solution?
Our experts are happy to implement your idea.
Talk to an expert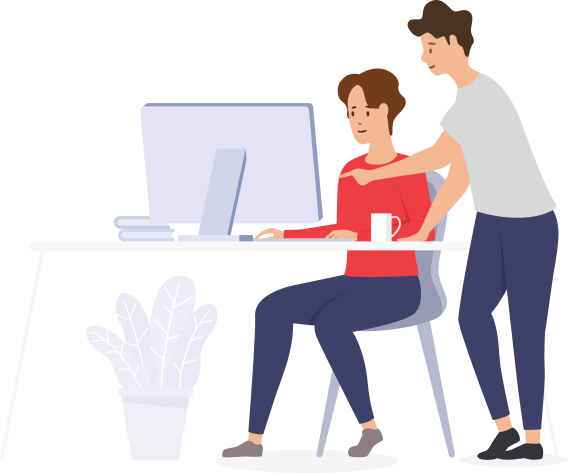 The features that a C2C marketplace platform must have:
Account management
Split user accounts into two types: sellers and buyers. Let them both receive email notifications, including messages, applying new settings, etc.

Buyer-seller communication
Let sellers and buyers communicate to reduce the order cancelation and return rate. Ensure that all communication channels can keep users within your C2C marketplace platform. It is important to make this communication secure for both sides.

Search and filters
Let your marketplace platform visitors be specific about the product they are looking for. Create a tool that allows filtering search results by features and pricing options.

Ratings and feedback
Build a product rating system that can be modified by buyers. Let them share their feedback, positive and negative. Buyers should be able to report violators of marketplace platform rules, and add them to a blacklist.

Payment gateways
Provide multiple payment solutions that enable transactions directly on your C2C marketplace platform. These are such as PayPal, Stripe, Braintree, etc. Also, it is essential to ensure the security of transactions to protect users' data and avoid unauthorized actions. For example, provide users with pre-authorization and other secure payment mechanisms.

Advanced product pages
Build trust in your C2C marketplace software. A full product description is only half of it. Each offer must be accompanied by images. Typically, US customers expect to see from 5 to 8 pictures per product.
Recommended reading: Key Trends in Digital Marketplace Industry in 2022
5 reasons to launch a C2C marketplace
1. Growing popularity of online marketplaces
Today an online marketplace platform is the most preferred method for e-shopping. The C2C model has gained popularity with the advent of companies like Amazon, eBay, Airbnb, and others. Social media boost recent innovators such as Facebook Marketplace.
Below you can see the diagram that shows the constant growth of online retail sales worldwide.
Source: Statista.com
But there's more to come. COVID-19 has shaken up the way established markets have been existing so far. As the pandemic continues to shift shopping habits, foot traffic in physical stores is diminishing. Tremendous amounts of customers are consequently choosing to purchase online.
2. Scalable C2C business model
Speaking about a marketplace, what comes to your mind? A bunch of buyers crowding around their beloved stands? If so, you're not far from the truth.
Even in today's Internet-oriented age, there's a point in the classic view of the marketplace. The long-term partnership still plays a major role.
To expand your business without falling apart, you have to take consistent small steps. As your marketplace grows, you embrace the appropriate tools for a greater audience.
The Airbnb marketplace is one rich C2C example of performing such a tactic. To compete against hotels, the company even took high-quality pictures of users' apartments. Another case is Etsy which invited the best vendors offline to pitch them on the platform they were launching.
Some tools are better for the beginning; some are better when you are bigger. - Tami Teixeira, Airbnb Sr. Global Quality Manager
Ready to scale means getting a proven track record and a reputable product. The rule is simple: top sellers attract more buyers, while a growing number of buyers attracts more sellers.
Take a moment to process the growth of Airbnb and Etsy, and you will not find a magic trick. Buyers and sellers are equally vital to these companies. So, you should also avoid prioritizing one side over the other.
It is highly beneficial that vendors recommend your C2C marketplace platform in their networks. Thus, you boost sales on your platform and cut off expenses related to vendor outreach.
Related reading: 10 Smart Ways to Solve Chicken and Egg Problem for Online Marketplaces
Inexperienced sellers do prefer to start out on a C2C marketplace before creating their own stores. For them, you can provide a fair chance to verify how valuable their offers are. Importantly, by creating a C2C marketplace, you help the vendors reduce marketing costs without any legwork.
3. Easy management
Minimum legwork
Being the owner of a C2C marketplace means you don't have to acquire inventory nor cover the costs of packaging and shipping items. Consequently, this model requires a smaller investment than an e-commerce market.

No large workforce
If you don't have a physical market, there's no need for sales staff. As sales grow, you can scale up the business without hiring a large workforce.

Fast-generated traffic
With buyers increasingly relying on online reviews, growing C2C marketplace attendance is simple to do. Apart from user-written feedback, you can benefit from built-in wishlists. Once users share wishlists, the platform gets extra traffic.

Social omnichannel
Advertising a C2C marketplace is easy when effectively utilizing social media user bases. For instance, 50% of Instagram users are more interested in a brand when they discover its new products and services on the platform.
Perhaps the most obvious advantage relevant to both shoppers and sellers is price cuts. Therefore, the main challenge for a marketplace owner is to balance supply and demand.
4. Variety of revenue models
As a marketplace owner, you must ensure the long-term viability of your business. Here are several ways a C2C platform can use in the pursuit of bringing in revenue.
Subscriptions. Let the sellers select the plan type in exchange for upgrades. VIP subscribers may use advanced reports, customizable selling tools, storefronts, and more (e.g., Amazon). This usually requires a monthly payment.
Related reading: How to Create a Bidding Website Like eBay
Commissions. Applying this revenue approach makes sellers pay fees only when selling an item or a service (e.g., Shopify & Airbnb). It is one of the most reasonable monetization models for C2C marketplace software.
Listing fee. The point is you charge the vendors for listing the products on the C2C marketplace platform (e.g., Etsy). This model certainly has both pros and cons. In case your marketplace business is launched recently, it certainly can push away potential users.
Featured listings. Sellers occasionally need to increase their chances of a speedy sale. Featured listings exist so vendors can place their offers highly on the searches (e.g., Craigslist and OLX). It is especially a good revenue model if your marketplace provides a free service for sellers.
Advertising. Ads can be viewed as a secondary option to diversify your monetization model. An uncontrolled amount of advertising, however, will scare off multiple users. The best way here is to make these ads limited and personalized (e.g., Rakuten, Facebook Marketplace).
Normally, the C2C platform gets revenue from commissions charged for each sold item. A helpful tip for you is that such an approach can work well in the platform's early existence. A successful C2C marketplace combine multiple business models to achieve the highest revenue possible.
Learn more: 10 Best Monetization Practices to Build a Successful Online Marketplace
5. Quick transaction means quick revenue
Best price satisfaction
It is essential to have multiple sellers to choose from and the ability to compare and negotiate a price. This leads to the "best value for money" effect. Thus, on average, C2C sites offer comparatively cheaper products.

Quick visitor-to-customer conversion
C2C marketplace has a wide range of visitors regardless of where they are. So, the chances to convert more of them into customers are higher - especially when compared to those physically walking in a mall to browse.

Fewer user data required
As we pointed out earlier, there are no middlemen. The listing process takes only a few steps. Oftentimes, online transactions require some amount of financial information. This, however, is not always implied within C2C payment operations.
Overall, it is all about customer empowerment and understanding the motives around their behavior. Let us bring some winning tips that will boost the sales on your C2C market:
Convenience in use
Nothing should destruct users from searching and buying goods. This is a reason behind the simple design of multiple feature-rich C2C websites, including the Amazon marketplace. Also, save customers' time greatly by making a shopping cart accessible from any page on your site.

Personalized discounts
Everyone appreciates a good deal on their favorite products. Research indicates that companies implementing personalization obtain over 40% more revenue than others. Also, it is reported that 48% of consumers expect specialized treatment for being a good purchaser.

Bundles
Many of us are familiar with such a tactic. You can show a user what product might be tied alongside those already kept in the shopping cart (e.g., monitor + cable organizer).

Payment gateways
Using a convenient and quick solution for payment processing is beneficial for your marketplace. The right choice of payment solution assists you in controlling payments inside your platform fast and easily. Read the article below that can help you choose the best solution for your C2C marketplace.
Further reading: How Much Does it Cost to Build an Online Marketplace in 2022?
C2C marketplace development approach
When you decide to launch your C2C business, you can go one of two ways. You can develop a C2C marketplace platform from scratch or choose a "boxed" service with a standard set of features.
Each option of C2C marketplace software creation has its pros and cons. To make the right choice, you need to analyze the goals and assess the scope of the future marketplace platform. Below we will highlight the two most applicable approaches for building C2C marketplace software.
Out-of-the-box solution
There are plenty of SaaS tools you can use immediately. They are Adobe Commerce, Sharetribe, Shopify, and others.
So, using these tools you can easy start a marketplace platform in a matter of days. Also, there's no need to worry about updates. Software providers tend to maintain their products' relevance.
However, such software can miss valuable functions that may turn out to be crucial in the long run. If you pick a customizable template, it will leave you only a little room for maneuver.
At some point, you will have to scale your business to compete effectively. So a ready-made solution is not enough to meet each customer's needs in the future.
Custom solution
In contrast, you can build your C2C website with up-to-date and extended features. This option can be fairly pricey, but it will meet your concerns, as it is not just a necessary minimum.
As a result, you will get a rich featured web application free of licensing fees. Also, the web developers have vast experience in creating custom C2C marketplace websites. So, such a team will bring domain expertise to your project. It will help you avoid common C2C marketplace development mistakes. Consequently, you will be able to save time and budget.
For instance, the Codica team delivered an online service marketplace and helped the client save costs on mobile app creation. The main idea of the project was to develop an activity booking platform. Using it, busy parents should quickly and easily find activities for their kids.
We also created a progressive web app that affected the search engine rankings of the web solution.
Below is a short video that shows how this C2C marketplace software web solution works.
Recommended reading: PWA vs Native Apps: Advantages and Disadvantages, Features Comparison
How Codica can help to develop a successful C2C marketplace
At Codica, we have rich experience in creating custom marketplace platforms, including the C2C websites. Our delivered solutions are scalable, reliable, and bring revenue to their owners.
We start the development process with the Project Discovery Session. This stage helps us to discover all details about the future project with the contractor. We also define a list of must-have features our client wants to include.
In the brief video below, our Sales Manager, Taya, tells more about this essential web development step.
After this phase, we create a minimum viable product (MVP). It is a base version of the future website. A client can launch an MVP to the market and present it to early adopters. Thus, it is possible to improve the web solution based on the gathered feedback.
Based on 7+ years of experience on the software market, Codica's specialists develop web products that prove their efficiency. For one of our clients, we have delivered a multi-vendor marketplace platform for the automotive domain. The solution allows customers and merchants to communicate. Also, they can hold payment operations within the platform seamlessly.
At first, we created an MVP that assisted our client in raising investments. After that, we transformed the solution into a high-performing multi-vendor marketplace development platform.
Also, thanks to the high loading speed we provided, the solution is well visible by search engine mechanisms. So, it affected the number of website visitors.
Below you can see how this C2C marketplace platform works in practice.
Read also: Custom Software Development for Startups: 6 Tips to Save Costs
Since you're here
A core idea of a C2C marketplace platform isn't about the volume of different payment operations made on the web. Initially, it's about forming close ties with existing users. On top of that, an ability to reach a large audience remains.
On average, the C2C website offer comparatively cheaper products. But since a third party brings together vendors and customers, its reputation is found to be crucial.
Thus, building a successful C2C marketplace takes careful planning. To keep your business afloat, your site features must differ from what you see day-to-day. Fortunately, the Codica team has a proven record in delivering online marketplace development services. If you need help with quality marketplace development, feel free to contact us.