Updated
29 Apr 2022
14 min
The chicken and egg problem has stopped being a merely philosophical dilemma. You may be surprised, but this expression is now widely used in the business world too. So what a chicken and egg problem is in e-commerce?
In simple words, this term describes the situation when the owner of a new marketplace is torn between attracting two equally important sets of users to his platform: buyers and sellers.
In this article, you will find smart strategies to kickstart your marketplace. Let the examples of famous brands inspire you to find unique user acquisition techniques.
The chicken and egg problem in online marketplaces
When you build a marketplace website, you don't have buyers yet. Consequently, the sellers see no reason to join your marketplace. At the same time, buyers are hesitant to register when your marketplace has a limited list of products or services.
As we can see, your online marketplace cannot function properly without both producers and customers.
Source: Knowband.com
All online marketplaces, even the biggest ones, faced this market challenge in their early days. However, the good news is that by applying specific strategies, they managed to overcome difficulties and bring new customers to their platforms.
Related reading: How Much Does It Cost to Build a Marketplace Website
How do you solve the chicken and egg problem?
1. Attract the hardest side first
Define the hardest side and try to build a partnership with this category of users. You can do this by testing the sales and onboarding process.
When the supply or demand side reaches its activity peak, the other side will see the value to sign in. NFX, a venture firm, calls this phenomenon the "network effect".
Outdoorsy is an online marketplace platform for users wanting to rent a recreational vehicle. The supply was a harder side for them. As soon as they motivated RV owners to join, the demand side signed up much faster.
2. Focus on a specific niche
If you have just launched an e-commerce website, you have dozens of questions on your mind. How do you grow your marketplace? What is the best way to get the first profit?
At first, you may consider offering a great variety of products and services to a broad audience. However, soon you will realise that this tactics of customer acquisition is ineffective.
In fact, it would be more sensible to start with a narrow niche. You need to provide value to the early adopters. Then, you can try to expand your market by adding new product categories or producers.
Amazon has come a long way from an online store that sold books to the largest e-commerce marketplace. Below you can see what the internet giant looked like in its early days.
Source: Mashable.com
Another example of a niche platform is an Australian online marketplace for boats, Trade A Boat. This case shows how it is vital to analyze the local market and understand users' needs. In Australia, people like spending time outdoors, in the sea. With a focus on selling boats and marine equipment, the portal has become one of the favorites for buyers and sellers throughout Australia. At Codica, we helped with adding useful features to the website keeping it on its successful course.
Further reading: How Codica Delivered Boat Selling Website for Trade A Boat
3. Subsidize the most valuable side of the market
For a new online marketplace platform, attracting the most valuable users seems a tall order. However, look at it the following way: as soon as the biggest players leverage your platform, other users will follow their lead.
Surely, monetary subsidies may encourage high-value producers to join your marketplace. It's no surprise that such brands as Facebook or Uber were ready to pay cash to attract users to the platforms in their early days.
Let's take a look at how the system of subsidies works using the case study of Uber.
Uber was founded in Seattle in March 2009 as a transportation network company. At the very beginning, the founders were attracting drivers by paying them even if they did not have passengers. With the help of monetary subsidies, Uber managed to gain high-value service providers. As a result, users more readily embraced the idea of ridesharing.
By the way, dating websites and apps also use monetary subsidies quite often. Since their visitors are mostly male, they offer women free registration.
4. Organize awesome live events
It may be a bit tough to throw a big event to promote your brand-new marketplace. You need to give the target audience a solid reason to attend your meetup or party, otherwise, they will ignore it.
A solution to this challenge may be finding a prominent speaker or key people in your industry who can talk up your event. Such a promotion by influencers will motivate the crowd to show up.
How else can you promote your event? According to EventMB, social networks are the most effective tool for event marketing. So don't hesitate and spread the buzz about your gathering on Facebook, Instagram or Twitter.
However, one or two posts about the upcoming event won't be enough. You should always think outside the box. A social media strategy is what will help you convert your followers into customers.
Given all these challenges, you may think that live events are not worth the hassle, but you'd better think twice. They help generate community users and get direct customer feedback.
Besides, meetups cheer up your target audience. People are happier and more carefree. The festive atmosphere makes it easier to build a partnership with new users.
So, if you want to attract early adopters to your ecommerce marketplace platform, include live events in your online marketplace business plan.
Uber organized live events to promote its new service called UberBoat. For example, guests and inhabitants of Kyiv, Ukraine got a unique chance to join a deluxe yacht trip on August 19, 2018.
Source: facebook.com
Recommended reading: Key Trends in Digital Marketplace Industry in 2022
5. Make a deal with a renowned user
Partnership with celebrities or influencers could be a master coup. People with massive social followings may automatically attract their fans to your platform.
Besides, such collaboration helps customers notice your brand. Offer a viable solution to the pain points of your target audience, and you will get all the exposure you need. You may even become a thought leader in your niche.
Finally, influencer marketing takes good old word-of-mouth strategy to a completely new level.
According to the Daily Mail, 53% of millennials trust bloggers more than their parents when booking a holiday. So why not try and make celebrities say a word for you?
Sharetribe tells an exciting story about Airbnb's partnership with world-famous celebrities.
The brand got their fifteen minutes of fame when Mariah Carey decided to use their services when going to Israel. Surely, Airbnb grasped the chance to make the most of the first deal with a celebrity. Airbnb offered Mariah a free reservation in return for a sponsored post in social media. This publication on Instagram got almost 45,000 likes.
Source: Instagram.com
Airbnb didn't stop there. Thus, Mediakix stated that the brand partnered with 37 world-famous celebrities during 2015-2017. Their sponsored posts received more than 18 million likes and 510,000 comments.
As a result, the brand got broad exposure reaching the total potential audience of nearly 1 billion Instagram users.
You may also like: How to Build a Website Like Airbnb
6. Become a producer
You cannot have your cake and eat it too. This old proverb applies to the chicken and egg problem more than ever. It is impossible to attract both buyers and sellers at the same time without the risk of losing too many resources or money. Thus, you need to focus on one side at a time.
The easiest way of customer acquisition is to become a producer. The tactics is plain and simple: you create products that will solve the pain points of your potential customers. As soon as your user base is large enough, you encourage other sellers or producers to join your ecosystem.
Apple is a classic example of a company doing the right thing. Initially, Steve Jobs was strongly opposed to third-party applications for the iPhone. He intended to create web apps that could be used via mobile web browser Safari. However, when the device attracted lots of consumers, he changed his mind, and in July 2008 Apple's App Store was opened.
Do you need a reliable team to create a marketplace?
We know how to deliver an excellent online store
Let's discuss your idea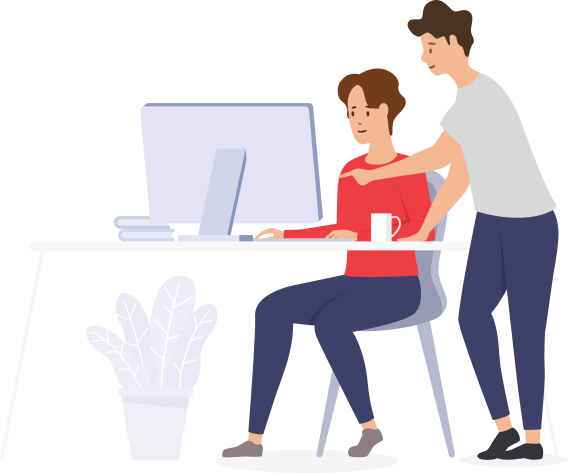 7. Set a time or demand constraint
Let's face it: marketers have a good reason to use scarcity to boost their sales. This strategy always works, as time constraints create massive excitement in the marketplace.
It is a sound idea to put a timer or countdown clock with a limited offer to define scarcity parameters. You stimulate users to take immediate action this way.
The Internet giant marketplace Amazon started its way with using scarcity to increase their sales. On their marketplace, we can see the deal of the day feature. It means that a single item or a small set of closely related exclusive products are discounted for one day only.
Related reading: How Much Does It Cost to Build a Website Like Amazon
You can make scarcity tactics even more powerful by setting demand constraints. A limited supply of goods compels customers to make a purchase. Scarce items are desirable as they serve as status symbols - like the power they get buying something others can't get.
Booking.com is another big name that mastered this psychological sales trigger. They found a smart way to imply that the deal on the accommodation won't last long.
Global strategies for solving chicken and egg dilemma
Besides the above approaches, there are three global strategies. They are popular among marketplaces when attracting customers. Let's see how they work and which one of them is the most efficient.
Use Single Player Mode (Standalone Mode)
This seeding strategy means that a company suggests a product with unique features to attract a bigger audience. Thus, the company attracts many customers with the value of its custom product. After the company's audience grows, the company starts providing its primary services.
For example, OpenTable, a platform for booking restaurants, launched software for online reservations. First, they developed an Electronic Reservation Book. It was unique table management and CRM software offered to restaurants for a service subscription. The software allowed for managing reservations, waitstaff assignments, and taking notes on frequent customers.
OpenTable attracted many restaurants in the city. After the audience grew, the company suggested table booking services to restaurants' customers.
Fill Empty Seats
This approach is similar to giving subsidies. It attracts the supply side on the platform that serves as a lead to the demand side. The platform, in this case, helps suppliers during periods of slow sales.
Groupon is a prominent example of solving the chicken or egg problem with this strategy. At the start, they were suggesting merchants sell discount cards on their marketplace to boost sales during slow periods. If a particular number of buyers purchased the merchant's product, Groupon would take a percentage. The rest would be the seller's revenue.
Their initial business deal was in October of 2008. Groupon helped sell pizzas in the shop of their Chicago headquarters. The store offered two pizzas for the price of one, and 20 people bought this deal on Groupon.
Thus, Groupon discovered that it was a winning situation for all sides. Offering the existing ventures to fill in empty seats, Groupon promoted their businesses. At the same time, Groupon attracted sellers with discount prices and made a profit as an intermediary between both sides.
You may also like: 10 Best Examples of PWA
Create a platform where Buyers are Sellers
This common business strategy attracts suppliers that are at the same time buyers. Most of the marketplaces that apply this approach also use a peer-to-peer business model. They have a high overlap of buyers and sellers, which is necessary for this strategy to work for your business.
Poshmark is an exceptional case of using this model. This is a platform for selling used clothes locally, similar to eBay or OLX. The founder Manish Chandra focused on individual buyers and sellers to solve the chicken and egg dilemma.
When the company started, they didn't see many users coming. The company started by creating an app to attract initial users. Poshmark provided an opportunity for customers to do selling on their platform.
For the first six months, there were only 500 users, but 300 of them were active enough with the Poshmark marketplace mobile app development. So, the platform built a community of consumers centered around fashion preferences.
In 2013 the successful company grew ten times bigger over one year. Today Poshmark works with many sellers, including top brands.
Recommended reading: How much Does It Cost to Create a Bidding Website Like eBay?
Marketplaces, where buyers are sellers, can focus on various products. For example, Codica created an online auto marketplace where users buy and sell new and used cars in Africa. With multi-vendor marketplace development services, the platform allows changing the roles when using the marketplace software. The portal grew its audience and accumulated 90+ local marketplaces.
Comparison of the global strategies for solving the chicken and egg problem
As a survey shows, the Single Player Mode approach is the most common among the companies to solve the chicken & egg problem. Also, it proved to be 10x more capital efficient than the Fill Empty Seats strategy. Below you can see the table comparing the efficiency of the three global strategies.
| | | | | |
| --- | --- | --- | --- | --- |
| Seeding strategy | Number of companies | Mean revenue, $ |  Mean funding, $ | Mean revenue/funding  |
| Single Player Mode | 19 | 7,734,114,488 | 771,136,317 | 10.03 |
| Fill Empty Seats | 14 | 2,567,125,111 | 2,547,728,090 | 1.01 |
| Buyers are Sellers | 9 | 1,530,477,778 | 882,583,567 | 1.73 |
Source: blog.elichait.com
Related reading: How to Build a Multi-Vendor Marketplace Website from Scratch
To sum up
The chicken and egg problem is a common challenge for any online marketplace development platform and on-demand startup, even the biggest names faced it in their early days. They succeeded because they were able to bring real market value to the early adopters.
Each e-commerce website is unique, and so are the challenges it faces, and the solutions that help resolve them. For starters, you may use the strategies offered in this article, and over time you will find your way to kickstart your marketplace and attract new users.
Codica team has vast experience in helping create and grow online marketplaces. Contact us to discuss your project with our experts and to get a free quote.