Updated
10 Aug 2023
24 min
The app design process is a crucial stage of your project creation. Users prefer apps that are not only functional but also engaging to use. Therefore, it is vital to follow the recommendations of experts to avoid common mistakes during the mobile application design process.
Well-known brands are launching their mobile apps, and their number is increasing daily. Despite the attractive prospect, many remain unused and fail. The reasons are bad user experience, the complexity of the app, the absence of necessary functions, and the inability to perform the desired action.
How to design a mobile app that will always be active on the smartphone screen? In this article, we have collected important information for startup founders to calculate the following steps and implement innovative technologies before competitors do. Make your mobile app design convenient, modern, and functional!
What is the app design process?
The mobile app design process essentially creates a mobile version of a website with additional features. At the same time, the main task of developers is to create a convenient ecosystem with a perfect user experience (UX).
By downloading any application, the real users are loyal by default. They have already completed the target action, and if they can solve their problem using your service, they will use it regularly. However, if at least one section on the client's path does not work or is inconvenient, the person will delete your application and never return to it.
Nowadays, it is only possible to imagine smartphones with abundant mobile apps. Startup founders should understand that the use of mobile applications is growing at a high rate every year. According to Statista's report, the number of available iOS mobile apps distributed via the Apple App Store has consistently grown, reaching 31.7 thousand reviews and receiving an average rating of 3.35 stars. So, this data tells us that it is a profitable idea to create your mobile product.
Source: Statista
As a rule, the user evaluates the convenience of several web products. Even if the person did not complete the particular action during the first visit, there is always a chance that they will return to your site after some time. At the same time, re-downloading applications are more of an exception than a common practice.
In fact, the great app design process bridges elements of user experience (UX) and user interface (UI). So, designers manage all parts of the design process in a continuous and simultaneous flow. But what is the difference between UX and UI design, and why are they so crucial for app design? Let's discuss it in more depth.
UI design process
User interface (UI) design is the graphic structure of the mobile app design. It consists of buttons pressed by users, texts they read, images, text input fields, and all other UI elements with which the user interacts. In addition, it includes content layout, transitions, interface animations, and every micro-interaction. Any visual element, user interaction, or animation should be developed in the UI design process.
All these UI elements are created by user interface designers (UI designers). They decide how the application will look visually. Such designers should choose color schemes, button shapes, line widths, and fonts used for text. To summarize, user interface designers create the appearance of the application interface - visual hierarchy.
It is essential to understand that UI designers are primarily graphic creators. They are related to aesthetics and must ensure that the program's interface is attractive, visually encourages the user, and corresponds to the theme. Therefore, you need to ensure that each visual element is unified in an aesthetic and purposeful sense.
The main characteristics of the UI app design process:
Used only for working with digital products;
The main focus is on custom elements;
Aimed at creating an ideal combination of fonts, color palettes, shapes, animations, images, and other visual elements;
The main task is to get a product that can satisfy users' aesthetic preferences.
Read also: Top UI/UX Trends to Follow in 2023
UX design process
User experience (UX) design is defined by how users interact with an application or service. It is important to understand whether the user experience is intuitive or confusing. Also, you need to analyze whether the navigation in the application seems logical or does not lend itself to logic. At the end of the day, you have to investigate whether the user experience makes people feel like they are effectively completing the tasks they have set for themselves or whether it is like wandering in a closed circle and feeling hopeless.
Seamless user experience is defined by how easy or difficult it is to interact with UI elements created by designers.
At the same time, UX designers also care about the user interface of the program, and that is why people often get confused or do not find the difference between them at all.
UX designers define interface structure and functionality and how all parts of an application are organized and related to each other. In general, they design the operation of the interface. If it works well, then the user will have a good experience after interacting with such an interface. However, if the navigation is complex or intuitively unclear, then most likely, the user will have a negative experience when interacting with the interface. Users don't like it when the interface behaves differently than expected. The main task of the UX designers is to avoid bad scenarios since they can negatively affect user performance.
The main characteristics of the UX app design process:
Used in digital and analog products;
Aimed at the study and analysis of the client's user experience (from the beginning of acquaintance with the product to the final interaction with it);
Works on the structure of the future product (site/service/application) and on simplifying the client's interaction with it;
The main challenge is to get a digital product that solves users' problems.
UI/UX design: different disciplines working in harmony
UI/UX design is the field of creating interfaces, where external presentation and ease of use are of equal importance. In fact, these are different areas of activity. Representatives of these areas of app design and development, although they look in the same direction, do different things.
Therefore, UI/UX app design and development involve different skill sets, but they are integral to each other's success. A good design can't save an interface that is inconvenient and confusing to navigate. A brilliant interface that is perfect for the user can be ruined by a poor visual interface that makes the application aesthetically unpleasant to use.
Moreover, UI/UX app design must be flawlessly executed and perfectly aligned with the pre-existing user expectations to create a better user experience. And only when these two practices coincide, the results can amaze you.
Consolidation of UI/UX efforts allows for achieving the following points:
Ease of visual representation;
The simplicity of the structure;
Uniform text design format;
The ability to quickly search for information.
Thus, UI app design is about shape, and UX app design is about function. A brilliant combination of UX and UI determines an app's usability, i.e., the simplicity and comfort of working with a digital product. The higher the level of usability of the site, the more convenient it is for visitors, and therefore it can bring in more income.
When choosing designers, the founders of startups need to ensure that the hired specialists in UI and UX design areas have increased empathy and know how to put themselves in the user's place. Also, these designers must match the quality of its visual app design with functionality. In addition, they must have a high level of adaptability to quickly adjust to changes.
The main steps in the mobile app design process
Startups must seize the opportunity to make a positive first impression on user personas. Unfortunately, the average app loses 77% of its daily active users within the first three days after installation. This data may be primarily due to poor app design. So you need to prioritize all the features and generate the proper app development steps.
Below, we have listed the leading UI/UX app design and development steps.
1. Research
First of all, it is essential to find and define the problem that your application will solve. You should pay attention because a correctly formulated problem provides a successful future project. This problem should be specific enough to be comfortable to work with and, at the same time, abstract enough not to constrict the proposed solution. At first glance, these are two contradictory characteristics, but a well-chosen problem is always somewhere in the middle between concreteness and abstraction.
Also, the problem must be measurable. Suppose it is impossible to evaluate how the selected solution helps solve the problem. In that case, the selected problem either does not exist or is so large that one application can't solve it. Therefore, when formulating an app idea, it is important to know that its solution can be measured - in the number of retained users, in the speed of solving this or that problem of the user.
Correctly formulated pain points for your potential business should answer five questions:
What requests will be resolved from most users who will use your mobile application;
For whom these pain points will be resolved - a specific description of potential users;
In what situation will people use the application;
Why the problem should be solved;
What will be received when the pain points are solved.
The research stage mainly focuses on researching the chosen problem, how it is solved today, and what problems people have when solving it. With a research method, it is vital to collect as much information as possible to understand users' requests.
One of the tools of the research method is a user research (user interview). It is a simple and quick way to understand how users feel, how they think, and what they believe to be true. However, at this stage, it is crucial to filter the interview results because people do not always know what they want.
The video below shows in more detail what product discovery is and what stages it covers.
At the research stage, the Codica clients share with us their vision of the product they would like to see at the end of development, and we study the project's subject area. Our team learns who our users are and what problems they face.
You may also like: Progressive Web App Design: 9 Tips for Great PWA UX and UI
2. Customer journey map
At the analytics stage, the user journey map is also a significant point for startups. Also, this journey map specifies what will need to be added later as the project develops. Moreover, a detailed scenario of customer behavior ensures the interest of investors.
This user journey map helps determine the required points in the MVP (minimum viable product). An MVP is a prototype of a future product. It is a working solution that has the minimum necessary properties and helps businesses reduce risks. Moreover, MVP allows you to test and evaluate the idea's viability and collect feedback from real users.
The main components of the user journey map are the following:
Defined travel time frames;
Scenarios under which the clients must achieve their goal;
Customers touch points during interaction;
User interaction channels;
User feedback at each stage of interaction.
The table below lists the leading indicators on the map that are decisive for business owners.
On the other hand, the map contributes to your stable business while improving service and increasing income. Focusing on app users at every stage increases all key performance indicators (KPIs). Therefore, you face fewer obstacles and have a higher conversion rate. With a user journey map, you can also increase brand loyalty.
Also, you will know what needs to be improved for the user experience and increased sales. Moreover, the customer map helps you rationally invest in development, including specific marketing strategies and tools. As a result, you will not spend the extra money and will be exposed to marketing risks.
For example, Starbucks developed its unique user journey map. Let's take a closer look.
At Codica, the customer journey map helps our specialists better understand what project clients like and what might disappoint them. Hence, our team can create relevant customer stories and customer scenarios. This map, therefore, enables us to cover all the steps of the app users.
Read also: How to Design a SaaS Application: Trends and Best Practices
3. User flow
Well-developed user flows are an integral element of the UX development process. A successful app design allows app builders to understand and design the user interaction.
In fact, user flow involves the creation of a flowchart of activities from the starting point (the first interaction with the product) to the end of the path (a desirable action).
For startups, this stage is beneficial, as the founder/s can simplify or eliminate certain stages of the customer journey. Otherwise, by ignoring the user flow development process, you expose your app to an excessive number of free screens and steps, making the user journey difficult. Moreover, creating user flows will help business owners reduce app design cost during the development stage.
At this stage, Codica experts improve the user experience, which helps make the product or service more attractive to customers.
On the other hand, there is also app flow, which gives us information about each app element and how they work together. At this stage, we demonstrate the functionality of a specific product, key features and screens, and events that occur when users perform a particular action.
So, the app flow stage is essential for optimizing functionality and simplifying the app. At the same time, an important point is preserving all the components critical for your business solution.
Related reading: 15 Most Common Web Design Mistakes Startups Make
4. Clickable prototypes
In general, prototypes are a tool used in the initial stage of UX design after layouts. They help to analyze how your project will look and work. During the prototyping process, designers can change any necessary elements.
In the process of creating prototypes, all the screens designed during the previous stage are assembled into a single functional system. With this system, you can check how convenient the application interface is. Designers show our clients a draft version of the project for their feedback. Then, with the prototyping tool, designers can change any necessary elements.
In the discourse of prototyping tools, one should also remember frameworks, which are simplified prototypes. These wireframes demonstrate the basic functionality and structure of the solution without going into detail. For example, a frame can offer several options for placing buttons or sections of screens.
Another example is the RecruitEverywhere platform made by Codica. It offers an environment for posting and finding jobs globally.
At Codica, prototypes are created before the development of the visual part to focus attention on the project's architecture without distraction by color and font. Therefore, prototypes are not colored, but gray-blue. The Codica team makes the app's flow for the user's journey, or flows. After that, we make clickable prototypes and demonstrate them to the client.
You may also like: Minimum Viable Product Design: How to Build a Successful MVP
5. Design
This stage refers directly to the app design. The designer, having completed all the preparatory work, begins to develop a well-thought-out UX structure and an attractive visual design. This stage consists of creating an information architecture and a graphical component of the interface.
Finally, the app design undergoes testing. The application designed for portable mobile devices is checked for its functionality, usability, and compatibility.
Below you can see the great design of the Wowner job match system, which our team created.
Codica experts collect references for inspiration. We make a logo if the client does not have one and choose fonts and color schemes. So, we created several app design options and approved the style of the project with the client. It is an obligatory part of our working process to discuss the outcomes with the client at every stage of web development.
Based on the visual part, our specialists compose a guideline detailing the heading sizes, font, button colors, and other graphic design elements. This guideline gives developers an idea of how the whole solution should look.
For example, developers need to see all the states of interactive features, paddings, animations, fonts, alignments, and interactions. Moreover, sometimes it is also necessary to prepare custom assets, such as specific icons or other marketing materials, for example, for social networks.
Read also: Website UX Discovery Process: Roles, Tools and Main Steps in Web Design
How to choose a mobile app design team?
A professional mobile app design team is essential to every stage of your product's development, from concept to launch. Therefore, it is crucial to hire a design team to coordinate all development stages and make your product or service perfect.
Suppose you do not want to do the app design yourself. In that case, you need to provide your platform with a communication bridge between mobile app designers and developers from the beginning of development. Therefore, they will be able to better analyze the complexity of implementing your ideas into reality. In the later stages of your product development, these teams thoroughly explore use cases and prototypes, significantly reducing the time it takes to complete your project.
For instance, professional mobile app designers can use mobile app development tools like Sketch and Axure.
There are also several other helpful product discovery tools. For example, you may have heard of the following:
Discovery research:

FullStory, Amplitude, and LaunchDarkly.

UX discovery:

Figma, InVision, Adobe XD, Balsamiq, and FlowMapp.
In fact, you have several options when choosing a mobile app design team for your project. For example, it is about the following options:
Freelance app designers;
In-house designers;
Mobile app design and development companies.
Let's take a closer look at these options.
Freelance developers
When you hire freelance mobile app designers, you have many opportunities. As you're not limited to finding local talent, you'll have access to a much larger pool of designers for your project. As a result, by gathering the best specialists, you can bring your project closer to the ideal variant.
On the other hand, starting a hiring process entails costs and the risk of having a less flexible team due to the remote work format. Also, the remote work of mobile app designers can lead to the deterioration of communication due to time zones and online communication platforms. Moreover, it would be best if you controlled how these freelance designers would communicate with other teams while developing your solution.
It is a good idea to hire freelance app designers online on Upwork, Hired, and Toptal. Especially with Toptal, you will get a sample of verified candidates, so you save time on the hiring process. This site provides a freelancing platform, connecting businesses with app designers, finance experts, product managers, and project managers.
Source: Toptal
In-house tеam
When you hire in-house app design teams, you get several benefits. For example, it means you get more control over the execution of the project at every stage of the mobile app design process. As a result, you will be more aware of the effectiveness and phase of a particular decision. Moreover, since your team works as a group daily, it can simplify communication and improve workflow efficiency simultaneously.
However, there is, of course, another side of the coin when recruiting full-time teams. Hiring in-house app design teams is sometimes a bad idea. First, you spend a lot of time and money on hiring, including scanning resumes, preparing technical tasks, and conducting interviews. Also, your team may need more flexibility when executing projects, so that you may experience staff turnover.
Moreover, these teams mainly perform a large amount of work on the application's design. However, the volume of work may be drastically reduced, and thus there will be a need to reduce the number of people employed. Hence, it is important to build a flexible team that can adapt to different project requirements and workloads.
Experts will advise you, when hiring in-house app designers, to check their previous experience to see if that experience combines with your business strategy. Also, it's a good idea to hold a mini design competition for your idea to compare potential candidates' skills and vision.
Are you looking for a reliable development firm?
Our team will create the best design for you.
Contact us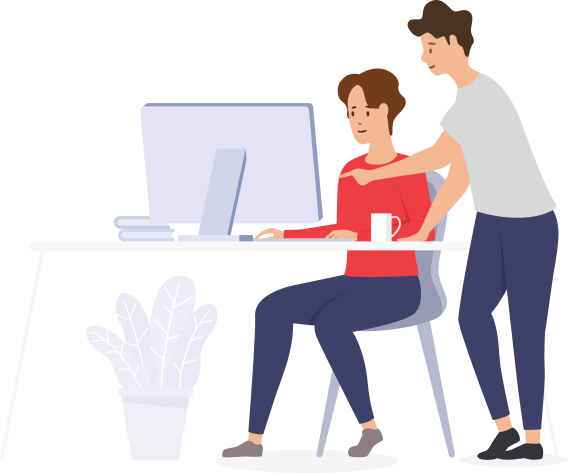 Specialized development company
In fact, specialized companies use the best development practices to help clients build an MVP. For example, they advise their target audience on how to prioritize features and what tech stack to apply for a particular project.
At Codica, we have a full-stack team of professional app designers. Our iterative design process ensures the team follows standard protocols to deliver projects consistently while meeting the company's quality standards. With our experts, you get more than custom web design services. The Codica team will take care of all your web design details, working with project managers and developers. Our specialists can always clarify all the technical nuances and advise on the optimal solutions.
The custom design idea is more about recognition, involvement, and significant effect. It meets the brand's requirements as much as possible, as opposed to the templates. At Codica, our UX and UI designers have colossal experience designing custom software products. Our professional design team knows how to create an eye-catching and user-friendly website that provides customer satisfaction.
The clients share their vision of the product they want to see at the end of the entire design process, and we turn this idea into reality. In particular, we developed the first such a large custom e-commerce solution in Europe and the UK that allows users to buy and sell their services and products in one place.
Our team built a complex online marketplace platform that includes B2C (business to consumer) and C2C (consumer to consumer) environments. Moreover, Codica experts created an enhanced design for all web solution parts to engage more end users.
You can watch a short video to analyze how this multi-vendor marketplace functions.
Codica's experience in app design
The Codica team lets business owners quickly create a user-oriented desktop and mobile app design for all their ideas and save time and money.
With Codica's UI/UX design services, you can improve your customers' experiences, raise the user flow, and achieve your business goals. Also, it is a big chance for you to stand out from competitors with your own app design. Thus, your web product's unique corporate identity will help end clients remember the company better. Moreover, you can also validate an idea with clickable prototypes. With prototypes, UI/UX professionals show the main pages of the future website and the client's path through them.
You can get great results at the end of the design process when you partner with the Codica team. First, we provide clickable prototypes that display the project's structure, logic, and main flows. So, you can add new functionality while considering the existing features. Next, our team guarantees approaches (fonts, buttons, their custom assets, and much more) that developers use. In the future, the approach may be supplemented if new functionality appears.
Furthermore, our UI/UX app design team develops unique visual elements for the entire web project. This visual style can be used for marketing purposes. Finally, there is a design for mobile and desktop versions. For example, Codica specialists use Figma in our UX design process to create prototypes and clickable elements. This is our favorite tool since it is flexible and robust. So, the client has access to Figma and designs.
Our experience in creating web solutions for particular industries has allowed us to grow our UI/UX expertise. We provide consultations on every stage of the project development and create products following the best web design practices.
In our portfolio, you can find many examples of custom app design in travel, insurance, automotive, accommodation rental, fitness, and other domains.
We like to share our work. Feel free to check out more designs from our projects on our Behance and Dribbble pages.
For example, our team created an online service marketplace for booking leisure activities for children. With the PlanMyKids platform, parents can find initiatives that match their children's interests and easily coordinate their activities.
As a result of the design process, our experts ensured an excellent user experience on desktops and smartphones with a PWA (progressive web app). Also, we delivered a scalable MVP on time and under budget. Below, you can see a video of how this activity booking marketplace works.
Finally, our client, David Watkins, the founder of PlanMyKids, was satisfied with the outcome of our marketplace app development. Thus, let's watch a customer review from David Watkins for Codica.
To conclude
Modern app design is a challenging process. A great mobile app design process requires constant problem-solving, investment, and commitment to good app quality and appearance. If you provide this entire process, you can build a very competitive platform.
The whole development process is based on UX principles designed in the initial planning stages. Therefore, it is essential to first check the usability of your project with various tools and conduct user testing. After thorough UX research, you can move on to the UI design process. There, you can create an attractive and practical interface.
To create the perfect mobile app design, follow the guidelines outlined in this article. Also, you can turn to our team to handle your app's design elements. Our experts will become strategic partners for your application development to take your app design to the next level.
If you want to test our custom app design services and start the app design process, then contact us with your special request.