Nowadays, building a marketplace is an appealing idea for entrepreneurs. They are inspired by successful examples of e-commerce platforms such as Airbnb, Uber, Amazon, and others. A few years ago, Amazon became the most valuable company globally!
Marketplaces are becoming more and more popular now. Yet, creating a profitable and sustainable e-commerce marketplace requires attention to many nuances.
Paying one's dues is what everyone usually does when launching their marketplace startup. But you can at least partially learn from the marketplace mistakes of others and make your way a little easier.
In this article, you will figure out what mistakes can occur when building an online marketplace and how to avoid them.
What is a marketplace?
The word "market" is derived from the Latin word "Mercatus," which means a commodity or a place where selling is carried on.
In the modern sense, a marketplace is an online trading platform that allows multiple suppliers to sell their products and services. Anyone who meets the criteria of an online marketplace can register, upload and sell a product.
In most cases, the sellers pay a certain percentage to the owner of the platform. That is, an online store with several suppliers can be called a marketplace.
Undoubtedly, the popularity of marketplaces is only growing. Below you can see the statistics of the most visited marketplaces worldwide.
Source: Statista.com
But, no matter how promising the direction of developing marketplaces seems, it is a complex business. So, it requires increased attention to detail. In addition, it is vital to avoid mistakes that can be detrimental to your web store.
Now, let's overview the common mistakes of building an e-commerce platform.
Pitfall 1. Lack of market research
Do you know that 90 percent of startups fail during their first year? According to the CB Insights research, the main reason for the breakdown is no market need. It is one of the common mistakes to avoid.
In the light of these disappointing statistics, we strongly recommend you to conduct market research. You should do it before creating the e-commerce website. Market research is an essential step in a successful marketplace launch.
If you neglect this step, the implications may be as follows:
You lose valuable possibilities that can help expand your online business. Notably, thriving marketplace owners know their markets and understand the needs of their customers. Also, they collect all the information needed for their businesses to be competitive.

Disregarding conducting market research may lead to the failure of your startup. A thorough initial research mitigates the risks of wrong decisions. It also shows the direction where to develop. Without it, you can make many mistakes. Some of them might be crucial for your marketplace's further work.
To compare, effective market research will assist you to do the following:
Narrow down your veritable market potential. This term means the total demand for a product in a business.

Also, you will know your most probable customers. You should consider that not every service or product is good for every consumer. So, define your target audience.
Indeed, the more specific your questions for research will be, the better you position your new business website.
How project discovery will help you
At Codica, we always start the development process with a Product Discovery Phase. This essential stage helps us collect information and analyze the business needs of our clients.
So, what is Product Discovery? It is the process of finding out what needs to be developed. It provides a clearer picture of user needs and critical answers to questions that arise during the development journey.
Is it worth solving this problem?
Will this web solution operate?
Will customers pay for it?
The Product Discovery phase means the process of working on your idea until you get positive, clear answers to all these questions.
Here, you can discover more about this crucial stage of an online marketplace delivery.
Even if you are sure that your platform satisfies a specific user need, Product Discovery will assist you in designing it properly. We recommend conducting this research before you create a minimum viable product (MVP).
Related reading: How to Create a Minimum Viable Product (MVP): Examples and Key Benefits
Pitfall 2. Launching without an MVP
To define how people accept your e-commerce store, present a first version of the marketplace. Thus, you will collect users' feedback. A minimum viable product is a set of the primary functionality of a web project. However, it performs the highest priority task for your future successful project.
We recommend you launch a marketplace, starting with an MVP creation. Below you can learn more about the benefits of building the minimum viable product.
Creating a minimum viable product allows entrepreneurs to do the following:
Test the hypothesis based on real data and prove the viability of the idea,
Reduce the possibility of financial losses when launching an unsuccessful online store,
Reduce costs of website creation by eliminating unnecessary features,
Identify unaccounted user needs,
Optimize product testing and speed up the search for marketplace errors,
Collect an initial customer base before a full-scale launch,
Enter the market earlier and attract investors.
Entrepreneurs often ignore this step. They believe that only the final version of the project is worth publishing and testing. Nevertheless, the practice of thriving marketplaces shows the opposite.
For example, the first version of Airbnb was a WordPress blog where founders just put down a list of apartments users could rent. They didn't even write any code. To rent, users just needed to leave a comment on the blog saying they wanted to stay there.
But thanks to this first version, the founders of the Airbnb startup could see what people wanted. Nowadays, the Airbnb website has excellent design and many features. However, most of them were developed only after thoroughly validating the main concept.
You may also like: Minimum Viable Product Design: How to Build a Successful MVP
At Codica, we are experts in MVP software development. For example, we developed a minimum viable product for the first auto marketplace in Africa.
The client wanted us to create a multi-vendor marketplace. In this web store, buyers and vendors could shop or sell autos, trucks, and motorbikes.
Source: Automotive marketplace case study
We developed a working MVP software in a short time frame to help our client raise early investments. A minimum viable product was later designed into a complex, high-efficiency vehicle marketplace.
By the way, you can see more of our completed case studies in our portfolio.
Read also: How to Build an Online Marketplace: 17 Tips for Aspiring Entrepreneurs
Pitfall 3. Disregarding the chicken-and-egg issue
The first days of the marketplace functioning are the most difficult. There are neither vendors nor consumers. This situation is known as the chicken-and-egg problem.
Often, startuppers don't understand from which side to start developing the project. Whether to start with demand or supply, attract more vendors, or focus on the buyers.
So, how to get your first users? One of the ways is to focus on unique content. For instance, the handicraft marketplace Etsy attracted craftsmen from exhibitions, markets, and fairs. In such a way, the platform transferred potential sellers and buyers from offline to online.
You should describe the benefits that your potential offline user will receive from working online. In turn, each offline player can bring some of their customers with them.
Thus, the Etsy site received unique content that competitors did not have.
The Uber marketplace hired the first drivers until the company became popular in the city. Then the marketplace transferred these drivers to a commission basis. The choice to attract drivers first wasn't wrong. It was much better than engaging passengers with no one to carry them to the desired destination.
Source: Knowband.com
The chicken-and-egg problem is common for online marketplaces. In most cases, at the launch stage, and even before it, you need to focus on attracting sellers, performers, or artisans.
You may also like: 10 Smart Ways to Solve Chicken and Egg Problem for Online Marketplaces
Pitfall 4. Poor UX/UI design
Another one of the mistakes when launching a marketplace is poor UX and UI design. So, what does the term UX/UI mean?
UX (user experience) design defines how the interface works. UI (user interface) design determines how the interface looks.
Of course, both user experience and user interface play an essential role in your platform's success. Enhanced UX/UI design makes your marketplace more interactive and attractive than others on the market.
There are particular requirements for the design of marketplaces:
It should be simple, concise, functional, and visually appealing;
It should freely support website elements on the desktop and mobile versions;
The clear interface of the online platform should be complemented by unique performance.
Below, you can find a useful video about UX/UI design trends for 2022.
The UX/UI design of the marketplace means creating a structure of voluminous multi-page sites on which many products will be placed.
When creating a marketplace design, developers put at the forefront the goal of conveniently placing the goods. This means the structure of the resource, the breakdown into logical and semantic blocks. The search function and offers of similar products also come to the fore.
The UI design of the web store includes creating a suitable appearance for all elements the user will interact with. Regardless of the number of pages and products, the key elements must look clear.
Source: Caravan marketplace case study
To complete all these tasks, you need the assistance of a creative specialist called a UX/UI designer. UI and UX are two different aspects of design, but most often, the tasks in both directions are closely related. Therefore, these tasks are usually completed by one universal professional.
The primary responsibilities of the designer in UX:
Studying the market peculiarities,
Conducting user research,
Creating a portrait of the customer audience,
Developing a working prototype of the product.
The primary responsibilities of the designer in UI:
Creating the website project style,
Thinking out the appearance and state of all UI elements (buttons, blocks, sliders, etc), as well as the font hierarchy,
Creating a guideline where all the elements above will be collected for the convenience of the development.
At Codica, we offer you an integrated approach to developing the marketplace's UX/UI design.
Our specialists work with the client's project from scratch. They consider all the requirements specified in terms of reference. Moreover, they use the latest software to speed up the product delivery.
Recommended reading: Website UX Discovery Process: Roles, Tools, and Main Steps in Web Design
Recently, we created a marketplace for boats, Trade A Boat. It is Australia's popular online platform for selling and purchasing new or used boats and marine equipment. The client contacted us to redesign the existing web solution to make it look fresh.
In terms of user experience, we made the search more structured and user-friendly. As for user interface design, we chose the marine colors: turquoise and blue. To dilute them, we also added beige color. By choosing these colors, we highlighted the company's brand identity.
For banners and separate blocks, we used illustrations of boats and the sea. These photographs seem appealing and complement the text well.
As a result, our client received a user-friendly site with a new interface look. Thanks to the advanced UX/UI design, we enhanced users' involvement and engagement on the platform.
Do you want a professional-looking website?
Our experts create beautiful and easy-to-use solutions that users love.
Contact us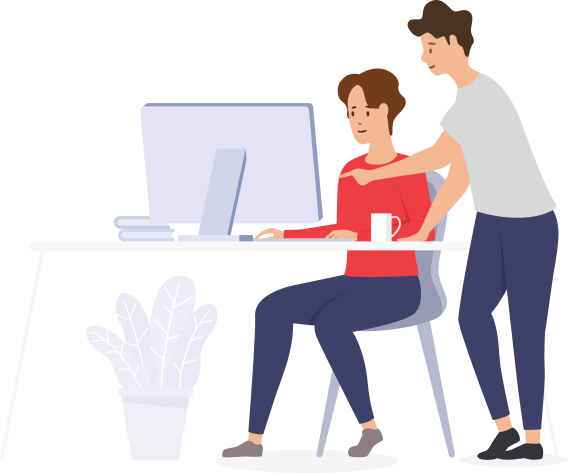 Pitfall 5. Choosing the inappropriate development approach
One more mistake when starting businesses online is selecting an unsuitable development method. When you decide to create a marketplace, you should choose one of the two main development approaches. You can order custom software development or use a ready-made solution.
First, let's understand the concepts: what is custom and template-based development, and how do they differ from each other.
The template-based solution is a type of standard web product. It is intended for a vast range of users. If you decide to create a marketplace with the help of templates, you can use Magento, Shopify, and other platforms.
Custom or individual creation is built for a specific client's needs.
Undoubtedly, each of these development approaches has its pros and cons.
Template-based development
Pros:
Quick start
Using platform templates is a great opportunity to launch fast if you don't need many features.

Moderate pricing
The set of functionality of template-based websites is minimal. So, you do not need to invest a lot in them.
Cons:
Scaling your web project will be difficult
The templates are good for their simplicity, but they are poorly adapted to specific business needs. Any marketplace errors will have to be solved independently. Technical support as a service can be available in advanced versions with an increased tariff plan.

Rapid obsolescence and slow adaptation to the market
Ideally, the application's capabilities should develop in parallel with the needs of customers. If your website can't keep up with these needs, users might abandon your product.

Poor customization capabilities
As template-based solutions are not customized, they have the same catalog structure and pages. By the way, this pattern is noticeable to customers.
Related reading: How Much Does it Cost to Build an Online Marketplace in 2022
Custom development
Pros:
Competitive advantage and uniqueness
Analytics show that you have only 10 seconds to impress the website's visitors. If not, your potential buyers might leave.
Therefore, nowadays, standing out from competitors is a question of survival in the market. Notably, ready-made solutions don't provide such a level of uniqueness and convenience as custom-designed ones.
Custom platforms are built specifically to promote your services or products. Also, they increase your brand awareness. So, a custom marketplace platform can become your brand's "digital face." It assists you in attracting new users and standing out from the competition.
Risk minimization
Independence from third-party developers is a great advantage of custom development. When creating a custom marketplace, the code belongs to the client. When implementing a ready-made software, it is only rented.

Implementation of custom requests
By choosing from scratch creation, the client wins in implementing their custom requests. These requests will most likely never be implemented using only templates. It is because the latter have a limited set of functionality.

Greater security
When it comes to special protection measures, custom creation is considered the most secure.
Cons:
Higher price
Custom website creation is more expensive than template-based. However, your investments will pay back in the future.

More time to launch
Since a custom web project is created from scratch and for the needs of a particular company, it takes from 7 months to launch. Sometimes it takes up to 1 year.
However, to receive a highly-performing multi-vendor website, choose the custom approach. For this, turn to an experienced custom development agency. The team of experts will provide a customized web product in a reasonable period of time.
Notably, it is reasonable to design an MVP of the marketplace based on a template, but the full version of your platform should be custom-made.
Recommended reading: How to Choose the Right Marketplace Development Company?
Conclusion: forewarned is forearmed
"Marketplaces don't work!" Often, you can hear these words from marketplace owners who didn't receive desired sales volumes on their websites. As a rule, entrepreneurs make most mistakes when they are just starting the platform. These lead to a loss of resources, money, and time.
We trust this article has helped you learn some of the basic mistakes made when creating a marketplace.
Undoubtedly, developing a high-quality custom marketplace is not a very easy task. You should know the needs of your target audience, have a clear marketing plan, choose a suitable business model, and much more.
Still, by hiring a professional development team, you can be sure that you will get a product that will make your business a huge success.
If you decide to build a marketplace platform, contact us. We are glad to implement your idea into life.